Table of Contents
The Typology of AIaaS: What Types of Services You Can Get
FAQ
AI has become virtually a household name in recent years. Everyone wants to jump on the bandwagon of becoming a high-tech company that uses artificial intelligence in one manner or the other. It can be something quite simple like automating a document workflow or developing a virtual assistant. Or it can be something quite exquisite and complex like financial predictive analytics or algorithms for autonomous vehicles.
Whichever the case, businesses today are aware of the benefits that AI might bring. However, there are quite a few requirements they need to uphold sprinting down the AI road. Among them are:
High cost of building an in-house AI solution
Need for expertise coupled with the lack of top-level professionals (AI engineers and developers)
Time constraints (building an AI solution from scratch demands long-term commitments)
Demand for significant computing resources
Taking into consideration all of the above, many business owners might feel disheartened. However, there's good news! AI as a service offers a much more utilitarian, efficient, and simple approach for anyone interested in adopting technology to reap the advantages of artificial intelligence in business. Moreover, it's not only something we want; it promises to become a business requirement this year. Let's take a dive to see why and how!
AI as a Service: The Basics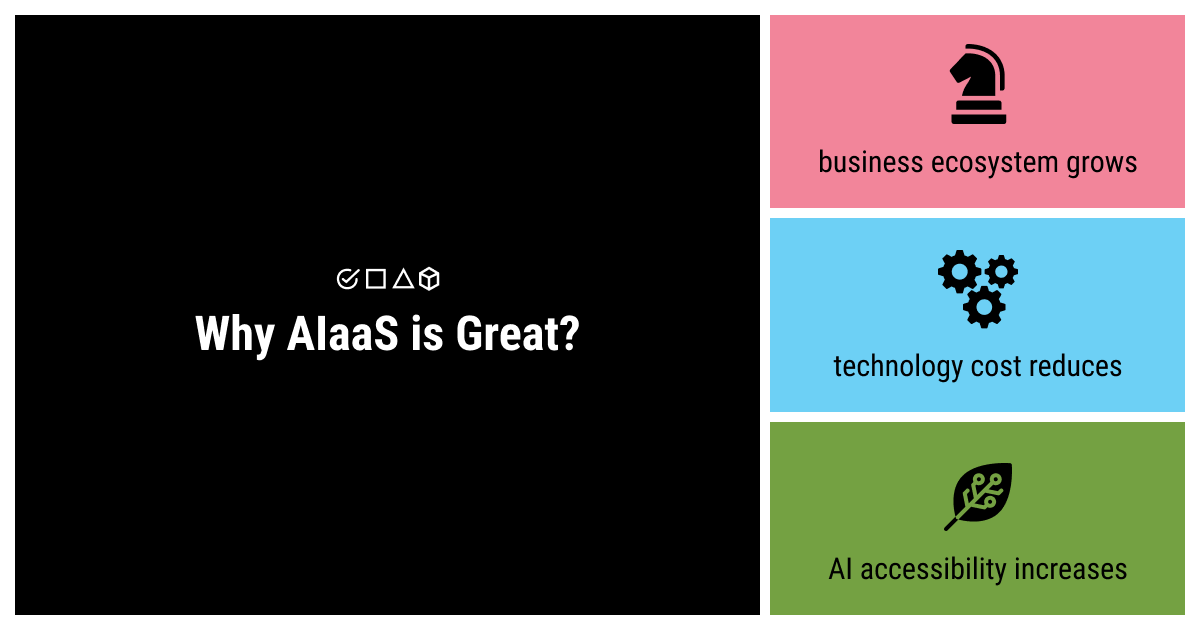 So what is AIaaS? Basically, AI as a service means that you'll be using a third-party service for an out-of-the-box AI solution for your goals instead of building a model from scratch.
Companies are increasingly investing in AI services to harness their business potential. From forecasting and planning to predictive maintenance and customer service chatbots, these solutions enable a wide range of applications, driving the growth of the AI as a service market.
In practice, this means that AI as a service phenomenon bears witness to such attractive concepts as:
the growth of the business ecosystem,
the increasing accessibility of AI, and
the reducing cost for this technology.
Benefits of AI as a Service: Why Should You Consider It?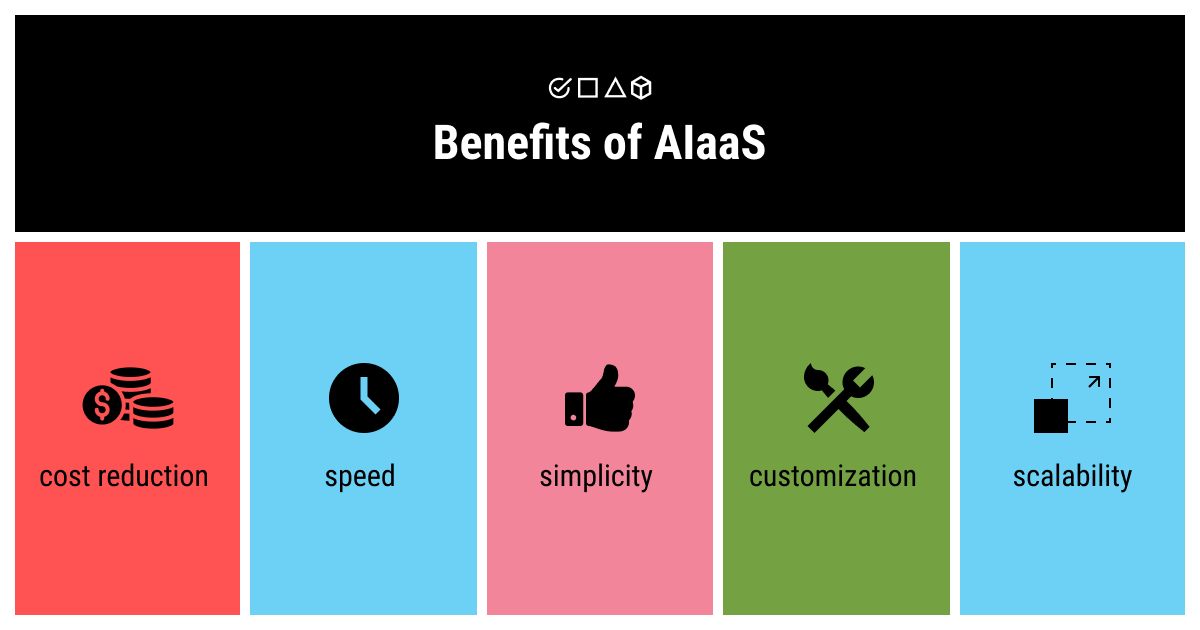 When an out-of-the-box service appears on the market, there's definitely a demand for this type of IT solution. That's the case of artificial intelligence as a service, as well. The reason is simple: it offers quite a few seductive benefits while facilitating if not eliminating a few hindersome problems. Let's take a look at what exactly AIaaS offers.
Cost reduction. Most definitely the major advantage of AI as a service is that it allows to cut down the cost of development of an AI solution significantly. Besides, the cost is transparent, so you'll only be paying for what you require.
Speed. Not only comparatively cheap, but AIaaS also offers to cut down the time spent on your AI project. It's out-of-the-box
Simplicity. You don't even need to learn how to code. The platform will do the hard lifting for you! Besides, AIaaS eliminates the demand of hiring experts and developing a complex multi-level infrastructure.
Customization. Whatever your goal is, AIaaS can be fine-tuned to correspond to your business, data, or project's needs.
Scalability. A lot of businesses tend to forget to make the model scalable when designing it. Third-party solutions don't forget to include this important feature in the design. This way, when your business grows and starts demanding more from your model, it's ready to deliver.
Naturally, this discussion wouldn't be complete without mentioning the shortcomings of AI as a service (which there are even if not many). First of all, it's worth remembering that the lack of a unique touch might make AIaaS unfit to support more complex and sophisticated projects. Such models usually need to be built from scratch with the understanding of the final goals and available resources.
Scarce documentation is another of the concerns that AIaaS is known for. This turns the AI service you use into a black box you cannot change when needed. Besides, there are limitations depending on the type of AI services that might include irrelevant training, features you don't need, etc. What types of AI services are there? Let's discuss them in detail.
The Typology of AIaaS: What Types of Services You Can Get
There are three types of services that you can choose from when deciding to add AI to your business. All of them come with easy integration that doesn't require deep prior knowledge from you while also allows you to start using AIaaS nearly immediately.
AIaaS Through API: The Intermediary Between Your Business and AI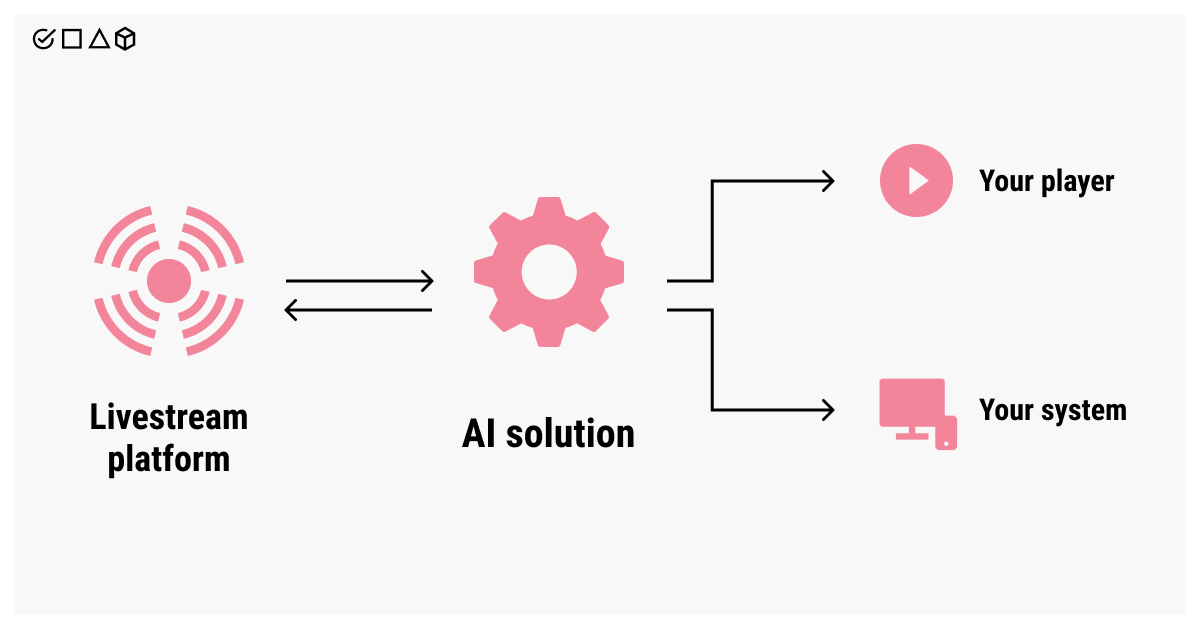 The first of AI service types is offered via API, which becomes an intermediary between your system and the AI solution that you want to use. Such services are popular as they are easy to install and use and usually require you to write a few lines of code.
There are quite a few tasks that this type of AI service can solve, the most popular of them being the NLP tasks (such as translation, sentiment analysis, NER, intelligent search, knowledge mapping, etc.).
Machine Learning Models of AIaaS: Increasing Tech Capabilities of Non-Tech Businesses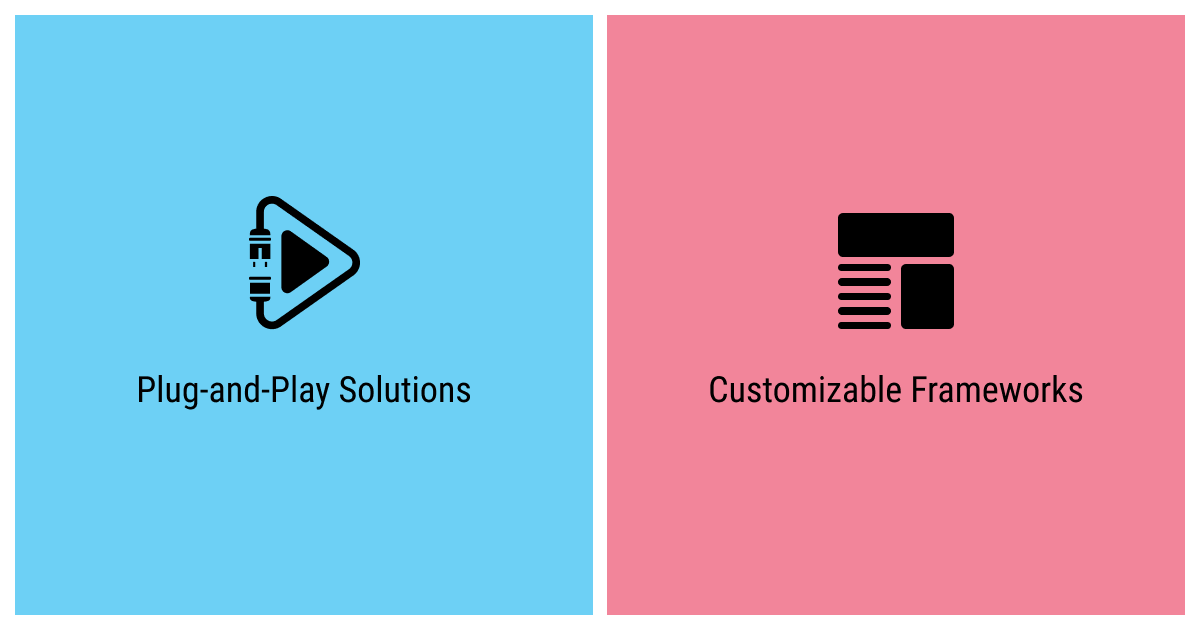 The second type of AI service is ML models that can be used for a wide variety of goals from automation tasks to complex predictive analytics. This AI service can be offered as an ML framework or a full-fledged ML service.
The difference between the two is that the former can be used by tech-savvy enterprises that lack resources for the full development of a model but can customize the chosen framework to fit their specific needs. Such frameworks usually are not fit for big data and work best with smaller datasets.
The latter, on the other hand, is a great choice for non-technical organizations that still seek to adopt an AI solution. This type of ML AIaaS is fully supported by a third party thus significantly facilitating the integration and management of the deployed model.
Chatbots: Automation and Digital Assistance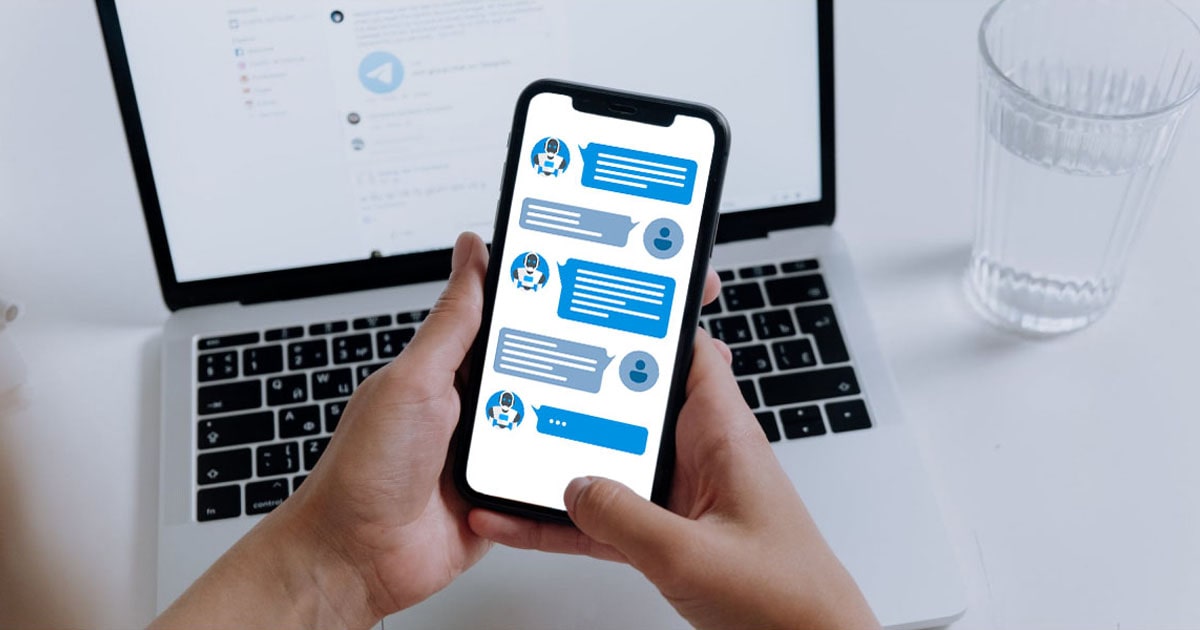 Our (and everybody else's) favorite, a chatbot is a little virtual helper built on the basis of NLP to understand and answer your request. It can assist you in something as simple as looking up current weather to much more complex things like assessing a health issue that requires medical attention.
Because of their versatility and wide range of uses, chatbots are currently the most popular type of AIaaS. They are especially in high demand for marketing and customer care goals, where they were able to make customer support and personalization a 24/7 business while saving a lot of time and human resources for other, more unique or value-adding tasks.
AI as a Service Companies: A Short List of Platforms By Popular Demand
While providing an overview of AI as a service, we also wanted to talk shortly about the key platforms on the market. It's possible that the popularity of AIaaS will soon signal the growth of other, more niche services. Still, at the moment, it's a 4-player game with Microsoft, Google, IBM, and Amazon competing for the majority of the market.
AWS primarily focuses on Amazon devices (such as Alexa) and other services
Microsoft's Azure has a set of services to cover the range of tech capabilities of the users, from no experience to building custom models
IBM's Watson is focused on the big companies that do not possess the high level of tech expertise but are looking forward to growing in this direction
Google Cloud has arguably the most versatile set of services of all, presenting API solutions for a wide range of AI tasks (NLP and CV) and tech skills (from plug-and-play of AI Hub to a development environment of AI Platform)
Each of these platforms offers quite a few fascinating serverless solutions for businesses of all kinds (e.g., Amazon Rekognition for image analysis, AWS Comprehend for natural language processing, Watson Assistant to build chatbots, Azure Cognitive Search for automation).
Conclusion: How We Fell in Love with AIaaS and Went Serverless
AI as a service is the first step to the digital transformation of the current business world. Soon, the experts predict that AI will not be just a pleasant benefit but an essential requirement for any business, whether tech-oriented or not.
And this makes sense. While building an AI model might be a complicated and demanding task in terms of both time and resources, AIaaS offers the solutions to overcome the issues and start using artificial intelligence right away.
Depending on your level of skills and the requirements of your project, you can choose one of the many solutions on the market. The four biggest players (Google, Amazon, Microsoft, and IBM) cover a wide range of demands. However, the future promises to give rise to a wave of more specific and interesting solutions from smaller companies, starting the era of AIaaS.


FAQ
What are the key components and functionalities of an AI platform as a service?

An AI platform as a service (PaaS) typically includes data management, model training, and inference deployment. This allows users to efficiently build, train, and deploy AI models. In terms of functionalities, such a platform offers data preprocessing, model versioning, scalability, and integration with other tools and services.

What are some key benefits of AI as a service?

An AI as a service (AIaaS) provides a convenient and scalable infrastructure for developing and deploying AI applications. It enables simplified AI development, reduced time to market, and access to pre-built AI capabilities and tools.

How is the integration of AI in services improving modern business?

By adopting AI for business services, such as through the AI as a Service business model or a cloud-based AI system, companies can automate repetitive tasks, enable personalized customer experiences, and get data-driven insights for informed decision-making. This way, AI drives efficiency, productivity, and competitive advantage.
Get Notified ⤵
Receive weekly email each time we publish something new:
✔︎ Congrats! You are on the list.

Get Instant Data Annotation Quote
What type of data do you need to annotate?
Get My Quote ▶︎