Table of Contents
Artificial Intelligence Solutions in Top Industries
A few months back, we dedicated a whole piece to discussing machine learning solutions, what they were, and where to find them. In this article, we'd like to go into more detail about artificial intelligence solutions and take a look at how artificial intelligence can help when applied in different industries.
From retail to health care and from fintech to transportation and travel, there is no industry left untouched by artificial intelligence. And as the popularity of artificial intelligence grows due to its automation and analytical prediction opportunities, the demand for artificial intelligence solutions is at its all-time high. So let's dig in and see how AI can be applied in different industries, cheaply, effectively, and with ease. 
What's an Artificial Intelligence Solution?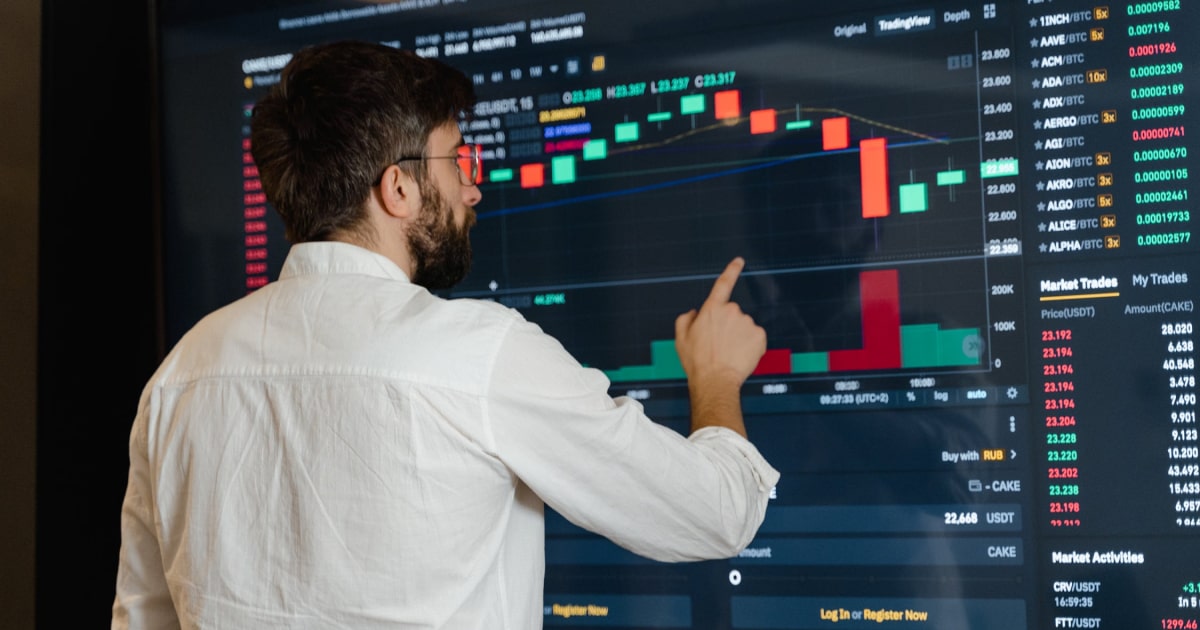 Long gone are the days when artificial intelligence was only available for the biggest players on the market. Today, AI and ML are an integral part of any business that wants to stay at the forefront of the competitive landscape.
However, introducing AI into a workflow can be tricky. It requires quite an effort with the following steps:
Pre-planning and budgeting
Hiring or gathering a team of professionals
Allocating resources including financial and time
Managing the development and deployment process
Support and maintenance of the working artificial intelligence model
These are the most basic steps that any company needs to take in order to make artificial intelligence a part of its workflow. However, not every business has the necessary capacity. That's why the necessity of introducing artificial intelligence in different industries also creates the demand for automated solutions that can be used by companies with little or no focus on IT.
Such automated artificial intelligence solutions mean that a business can progress with model design and implementation with a comparatively small team of experts. The artificial intelligence solutions offered by AI companies today usually come in two different flavors:
The free or freemium options offered by model-building platforms help businesses to work on their own models from scratch. This option usually comes with a library of basic models to choose from that can be built on to achieve the required final result. Using this option requires more expertise in the model building but also gives flexibility and unique touch that the other option might not have.
Ready-to-use solutions that are adjusted to the specific requirements of a business. Such solutions are often created on the basis of similar models for different businesses but with care taken to address the unique requests of the client. Certain companies offer post-deployment maintenance, as well, and might not require any additional management from the client.
As we've already covered machine learning solutions from platforms in our previous article, today let's talk more about the ready-to-use solutions for different industries.
Artificial Intelligence Solutions in Top Industries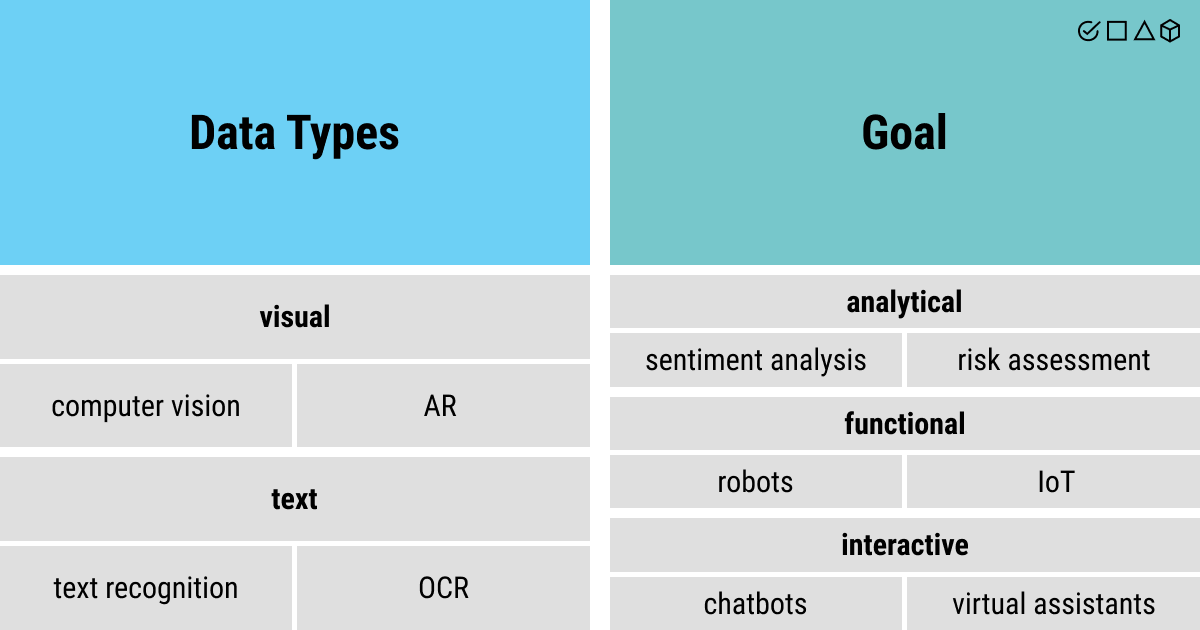 There is a wide variety of artificial intelligence solutions that can be used by a business today.
Based on the type of data, there are different AI solutions. Computer vision (as well as augmented reality) works with the visual data types. NLP (for example, text recognition and OCR) offers an array of text-based solutions.
Solutions can also be grouped based on their primary goal: analytical (sentiment analysis and risk assessment), functional (robots and IoT), and interactive (chatbots and virtual assistants) AI.
Let's see how these artificial intelligence solutions can be applied to specific industries.
Artificial Intelligence Solutions for E-Commerce and Retail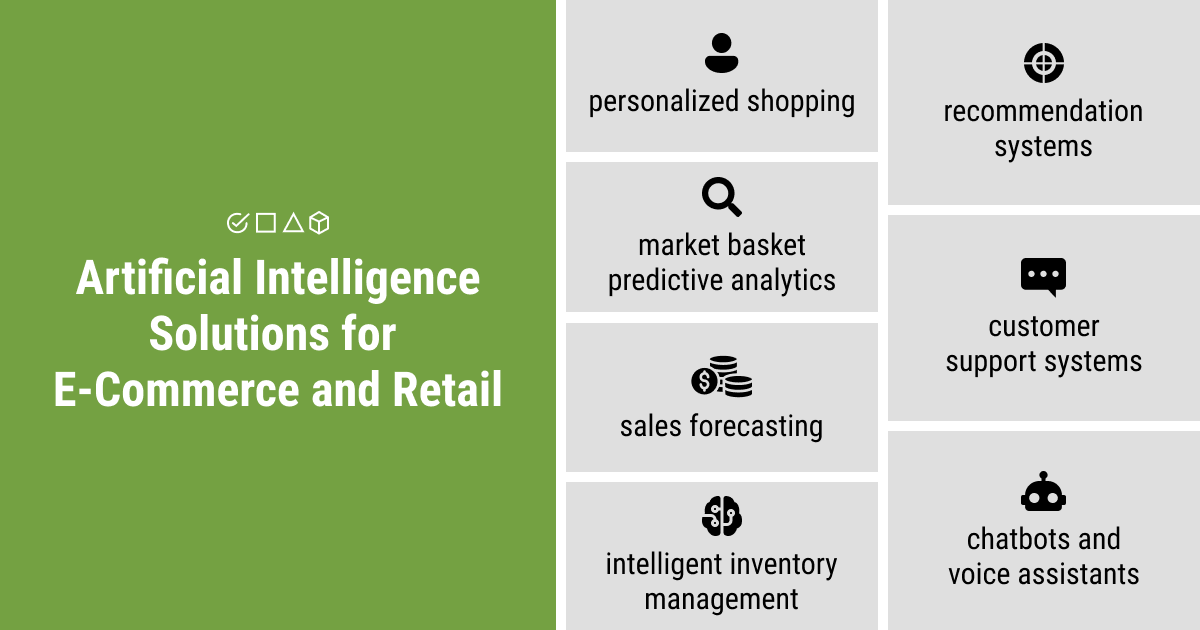 In the era of pandemic restrictions, e-commerce has found a new trove of opportunities that AI solutions can help explore. While brick-and-mortar shops loose customers, online retail thrives, especially if supported by machine learning.
Personalized shopping and recommendation systems are among the most popular artificial intelligence solutions for e-commerce. They offer the opportunity to keep the visitor longer and interest them in more products. This results in larger baskets, as well as building customer loyalty by strengthening the brand image.
Let's not forget about the introduction of customer support systems that now allow businesses to be online 24/7, no matter the circumstances. These systems (that often come in the form of chatbots) decrease the waiting time for the clients, facilitate ordering and resolving technical issues, and improve overall customer experiences.
Other important artificial intelligence solutions commonly used by online retailers are sales forecasting and intelligent inventory management. As competition becomes tighter and the costs for storage spaces grow, it becomes increasingly important to plan the supply chain, optimize prices, and manage the inventory based on the smart market basket predictions only AI can provide.
Artificial Intelligence Solutions for Health Care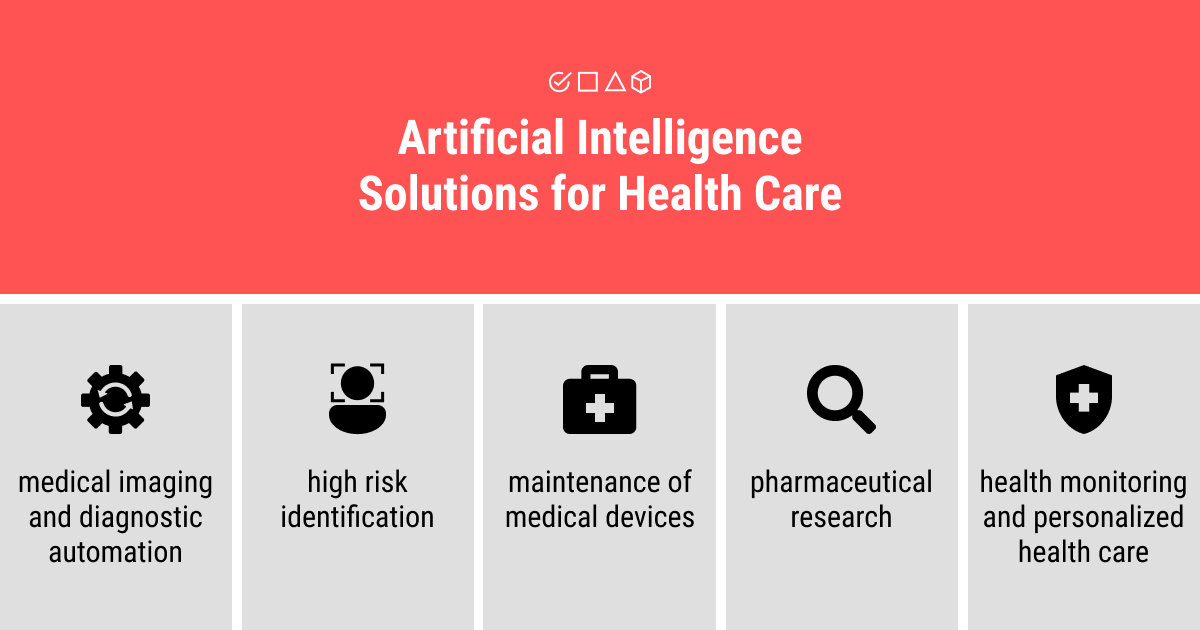 Health care becomes more and more important as the population of the planet grows and as the nations of the developed countries age. The demand for medical services is already unprecedented, creating a short supply of doctors and medical devices. This in its turn results in skyrocketing prices and decreasing quality of services.
Fortunately, the introduction of artificial intelligence solutions can stabilize the growing prices and facilitate the job of doctors by automating certain processes. Specifically, medical imaging and diagnostic automation solutions are in high demand as they allow the identification of people at high risk of serious or life-threatening diseases and smart queueing of the patients.
Besides, AI virtual assistants help with day-to-day health monitoring and personalized health care. As artificial intelligence takes on mundane tasks, doctors are relieved to perform more significant jobs that require a human approach and prowess.
On the other spectrum of health care and artificial intelligence corroboration is pharmaceutical research. Deep learning and neural networks specifically allow the utilization of the predictive power of AI to look for cures that were not possible without the help of machine learning techniques.
Predictive maintenance of medical devices is yet another artificial intelligence solution widely sought by the health care industry. Modern devices are complex and very expensive, not to say that keeping them in top-notch working condition might mean saved lives. So the artificial intelligence solutions that help to predict when certain devices require maintenance is of utmost importance.
Artificial Intelligence Solutions for Fintech, Consulting Services, Insurance, and Banking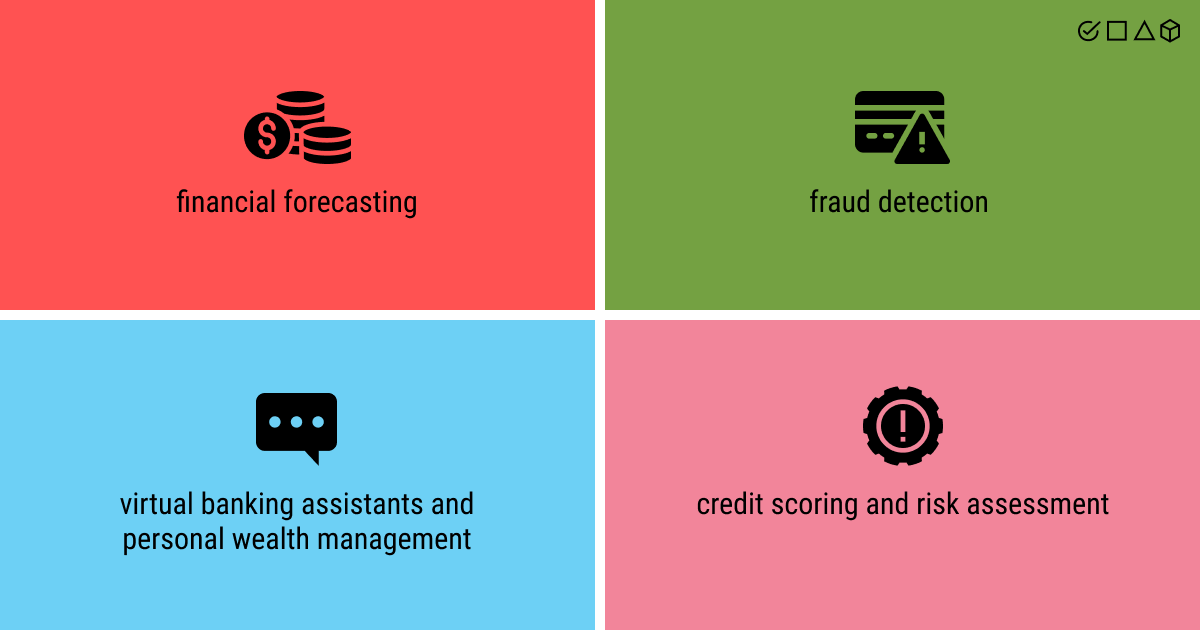 The financial industry was among the first that embraced the possibilities of artificial intelligence. Starting with stock market predictions, today, AI solutions in fintech and banking are ubiquitous. Financial forecasting and predictive analytics easily become the most in-demand AI-based solutions on the market.
However, let's not forget that security has always been crucial for financial organizations. That's why fraud detection enabled by artificial intelligence models is so widely spread today. Besides, banks and insurance businesses also have a high interest in artificial intelligence solutions as they allow for credit scoring and risk assessment that today are easier than ever with automated ML-empowered models.
For the private sector, virtual banking assistants and personal wealth management are growing in popularity in recent years. As the situation with COVID-19 progresses, online banking has become more important than ever. Personal investment assistants no longer need to be humans, as well: they can be artificial intelligence models that calculate the risks and leave the decision-making to you.
Artificial Intelligence Solutions for Manufacturing and Construction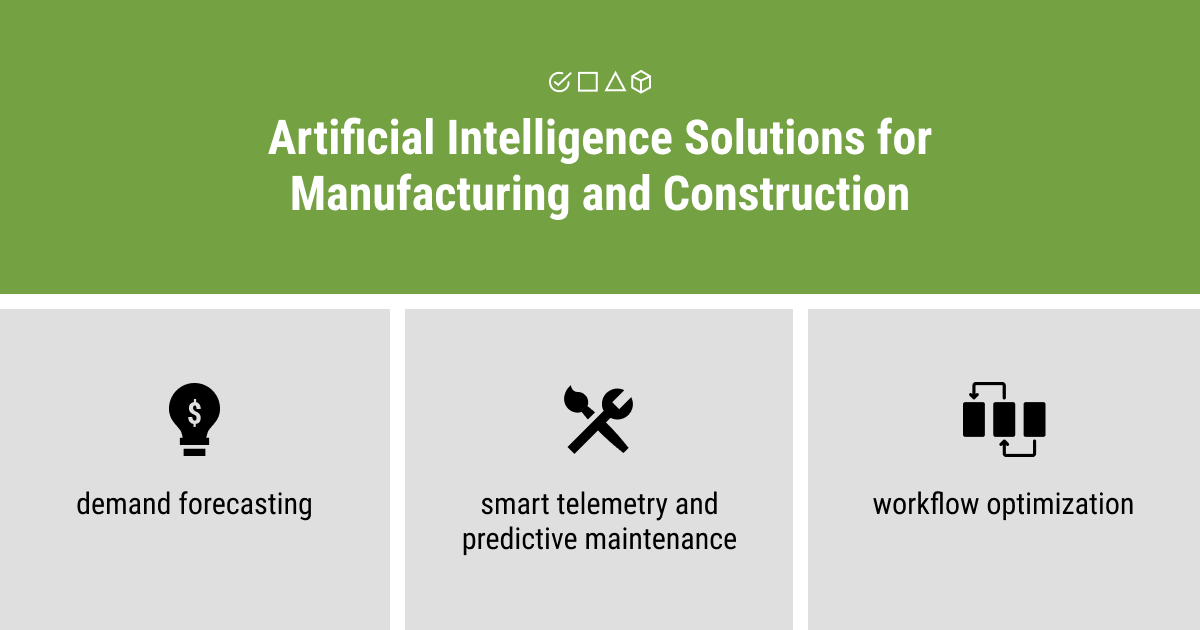 Industries like manufacturing have always been at the forefront of automation. So workflow optimization AI solutions are naturally among the most popular in this area. These solutions are commonly combined with demand forecasting that allows to foretell the market demand and adjust the manufacturing volumes accordingly.
On the other hand, both manufacturing and construction rely heavily on machinery. For this reason, IoT is in common use here as it allows for smart telemetry and predictive maintenance of the machines.
Artificial Intelligence Solutions for Transportation, Logistics, and Travel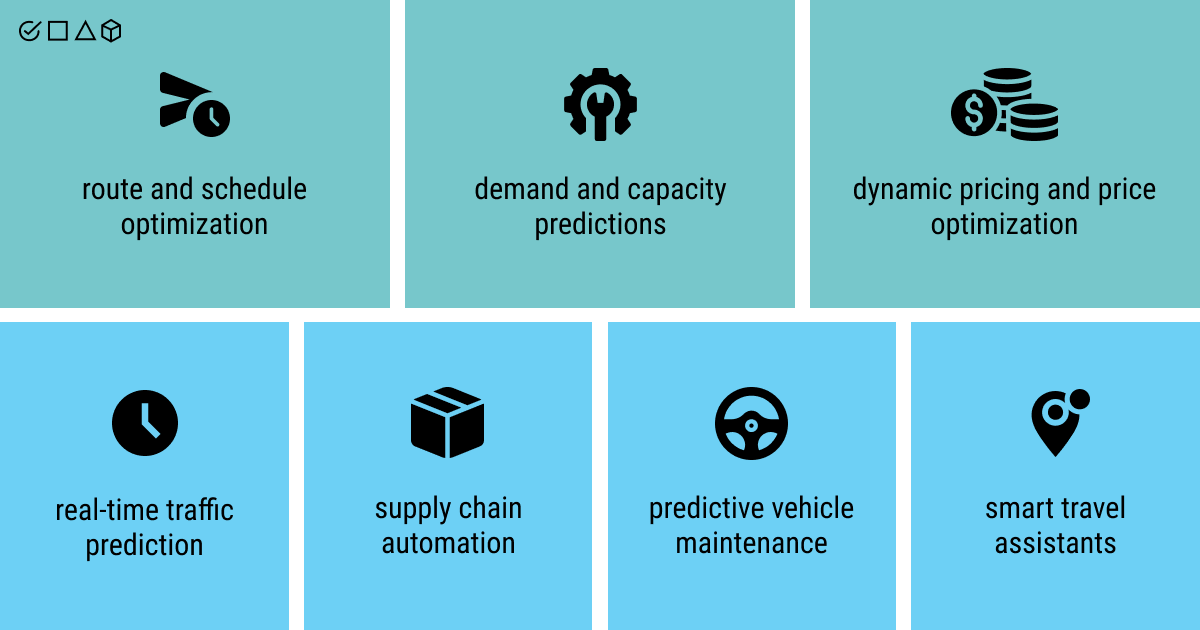 Transportation becomes more complicated every year with the complex supply chains and public routes combined. The exponentially growing number of vehicles can only aggravate the problem that can no longer be solved with a mere human mind.
However, AI solutions come to the rescue. Starting with route and schedule optimization and taking into account real-time traffic predictions, it's now possible to find and update the best possible routes for faster, more effective delivery and traveling.
Demand and capacity predictions are at the core of logistical problems. Together with supply chain automation, artificial intelligence solutions facilitate the calculation of critical capacities that will provide maximum effect at minimum cost. Throw in the predictive vehicle maintenance, and you get the dream of a logistics manager where everything works like a clock and artificial intelligence warns you, which parts of the chain require immediate attention.
Traveling has also become easier and better with dynamic pricing and price optimization. Today, a traveler can seek out the best ways to get from one point to another. Smart travel assistants offer an even smoother traveling experience, integrating transportation, accommodation, and entertainment options in a single ready-to-use dynamic traveling plan.
Summary
As you can see, artificial intelligence solutions are for everyone. Artificial intelligence has permeated every industry and offers effective and productive improvements to the workflows in any area. As the demand for artificial intelligence models grows, it makes sense for the IT industry to offer ready solutions that can be integrated into any business without much expertise in designing and implementation of machine learning algorithms.
The world undoubtedly goes digital, and companies of all kinds are at the forefront of harnessing the power of artificial business intelligence. Many focus on predictive analytics that allows them to make smarter decisions based on the complex calculations and market analysis conducted by artificial intelligence models. Other businesses rely primarily on automation and optimization opportunities to relieve people from the effort of the mundane or repetitive work and let them focus on more creative and managerial tasks.
Whatever the goal, artificial intelligence solutions have something to offer any business in any industry. If you're seeking an opportunity to grow your business, we advise you to dig deeper into the fascinating world of artificial intelligence solutions. If you have the data collected, contact us today, and we'll help you with preparing the dataset for training your ML model. Then, it's a short step to success!
Get Notified ⤵
Receive weekly email each time we publish something new:
✔︎ Congrats! You are on the list.

Get Instant Data Annotation Quote
What type of data do you need to annotate?
Get My Quote ▶︎