Defining Moments for Our Team This Year
What Was 2022 Like For Our Team?
It's the tail end of the year, and our Label Your Data team would like to highlight the biggest achievements and the toughest challenges it faced this year.
The year 2022 has brought about a lot of hardships and repercussions. But we are grateful for our increased sturdiness, toughness, and resilience. We will always bear the scars of the raging war and learn to adjust to the new reality (both in business and life) as it is.
Despite all the trials of fate, the Label Your Data team has something to share with you, our dearest readers!
Defining Moments for Our Team This Year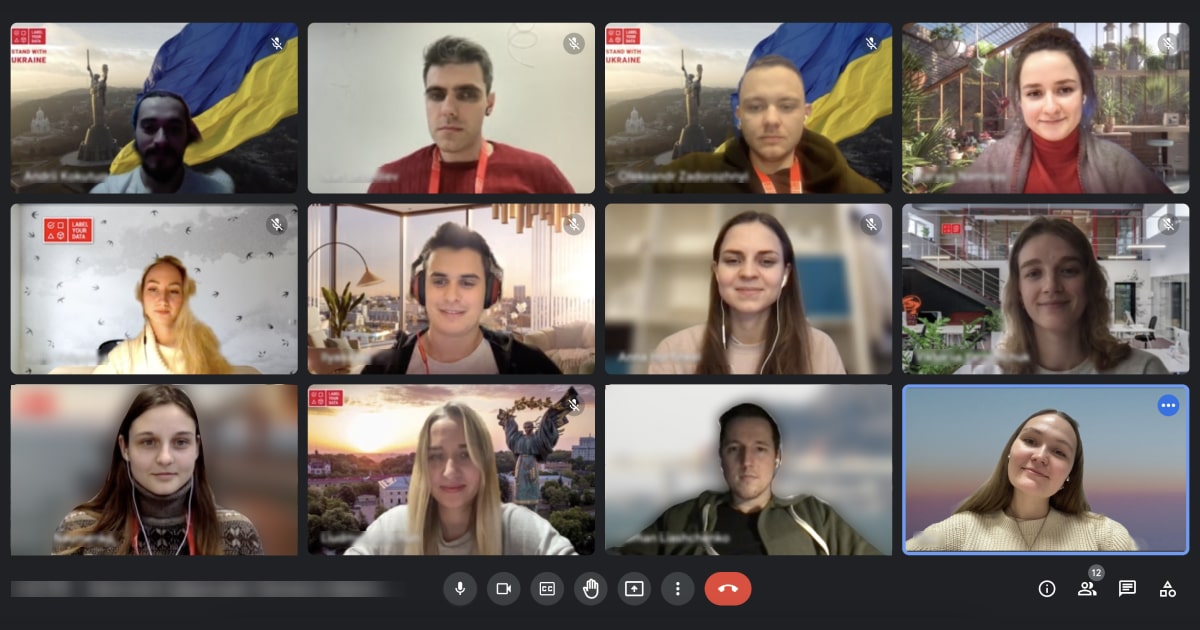 The data annotation market is steadily growing, owing to advancements in artificial intelligence and the rapid rise of data volumes produced by businesses and users worldwide. To give you an idea, data generation in 2022 averaged 2.5 quintillion bytes per day.
For our team, the more data is produced, the more obstacles the annotators must overcome along the way. And in this, we see enormous potential for the company's growth and professional progress for our data experts.
And that's how the year 2022 has unfolded for Label Your Data:
Launching our first annotation platform.

2022 was a special year for our internal product management team. We are proud to be soon ready to launch our first-ever platform for data annotation in beta testing. It is currently developed in annotator's mode, so that fresh new data enthusiasts could try their hand in this field. We hope to release our platform early next year, and then we are planning to focus on developing the clients' self-service platform. Find out more in this section.

Offering API and AWS integrations for convenient data exchange with our clients.

Previously, our clients were required to transfer their data in archives (e.g., a 3000-photo 4 GB archive). That is, they had to block the archive and send it to us by mail or via certain cloud storage. This year, however, we put our effort to make this process easier for both sides. Now our clients don't have to transfer this data anywhere because our tool can be integrated through API, AWS, or with any cloud storage where the client stores their sensitive data. And there's no need to download huge archives of data.

Continue running our operations despite the global situation.

2022 was not only special, but also the most turbulent year for the entire team and our company in general. The ongoing war marked both the start and the end of this year. Yet, we were able to adjust to the new reality in the business world and carry on working in spite of all the challenges that the war and the global crisis brought. Not just in Ukraine, but also all around the world, we stay in touch with the team. It's truly impressive how our people remain upbeat and recognize chances for growth under such trying circumstances.

Cooperated with a few universities on their research projects.

Efficient cooperation with trusted and recognizable partners was one of the milestones we set for the year 2022. And we succeeded in doing so. Throughout this year, our Label Your Data team has been working on a couple of research projects for global universities. These were mainly architectural projects for computer vision that involved semantic segmentation labeling.

Conquering new horizons of the Formula Student 2022 season.

This year, the data annotators of the Label Your Data team were back to labeling data for Elefant Racing, commemorating the two-year partnership with our driverless partners from the University of Bayreuth, Germany. In 2022, the team of young enthusiasts was working on their upgraded version of the automotive race car, Thor FR22. Not only the technical and mechanical parts were improved, but also the entire driverless system. We were proud to be a part of this story and the many victories that Thor has brought to the Elefant Racing team. You can read more here.
In spite of the War: Working No Matter What
Earlier this year, the Label Your Data team shared some personal stories with you. Since the beginning of the war and invasion of our land, a few members of our team were forced to leave their homes and start their lives from scratch in a new place, like Oleksandr. Some of them were living in the epicenter of life-threatening events and were unable to flee, like Roman. Another Label Your Data hero, Eduard, is in the Armed Forces of Ukraine, fighting for our dignity and freedom to this day.
As you can see, despite all the global situations, we continue to do everything we can to keep on working and co-building an AI-driven economy together with our clients. Our offices in Kyiv are well-equipped to function during electricity cuts, allowing the team to continue working without interruption. The rest of the team is located globally, not only in Ukraine, but also in Europe and South America.
Our Contribution to the War
In order to support and aid our Armed Forces, we are especially proud of our two successful military initiatives. We have never worked on a project like this before. Therefore, it was a tough mountain to climb for the entire data team. How did it go?
We are working in the country at war, so it was our mission to help our army. And one day, we were given the chance to collaborate with our partners on two miltech projects. For the first project, our team performed computer vision annotation for automating the process of enemy equipment detection. The data we worked with was retrieved from video recordings of drones. That is, aerial reconnaissance.
The second project our data experts were working on was a sound recognition project. More specifically, our annotators labeled the audio data that contained the sounds of flying helicopters, passing cars, missiles, or even the wind. The purpose of this project was to supply structured annotated audio data to the locators dispersed throughout Ukraine in order to train their algorithms to recognize these sounds.
Meeting Our Clients from Abroad & Networking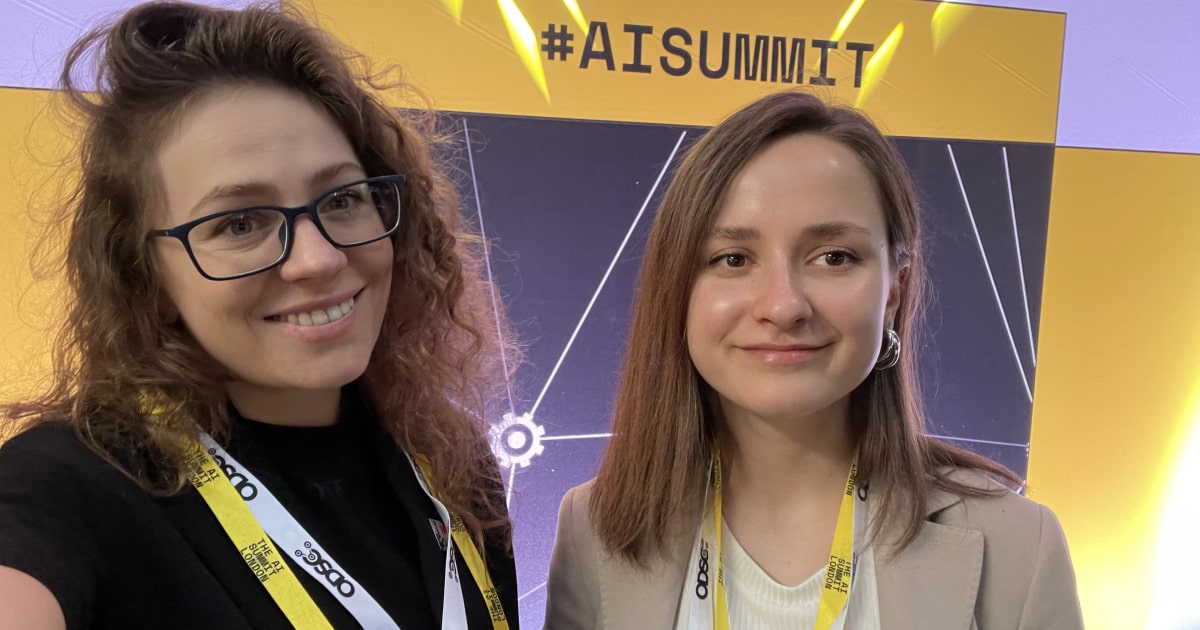 The summer of 2022 was very prolific for our CEO, Karyna Naminas, as well as the co-founder and advisor at Label Your Data, Daria Leshchenko. Thanks to their zeal and passion for what these women do, our team got the opportunity to increase its clientele and global reach.
By participating in AI-related events, such as MOVE, The AI Summit, and ODSC (Open Data Science Conference). The three conferences took place in London in the context of the tech week. Our CEO achieved the two key objectives of our team with the help of these business trips. First and foremost, we had a huge need for offline networking, which was one of the main reasons for Label Your Data to be represented at these tech events. The second goal was to stay up-to-date with all the latest AI and data trends, as well as to communicate with our potential clients.
Such networking events are a great way to work the room, meet new clients, and ultimately give the company wider visibility on the international level. It was a smart and important move for our company in 2022.
Top Data Annotation Cases in 2022 at Label Your Data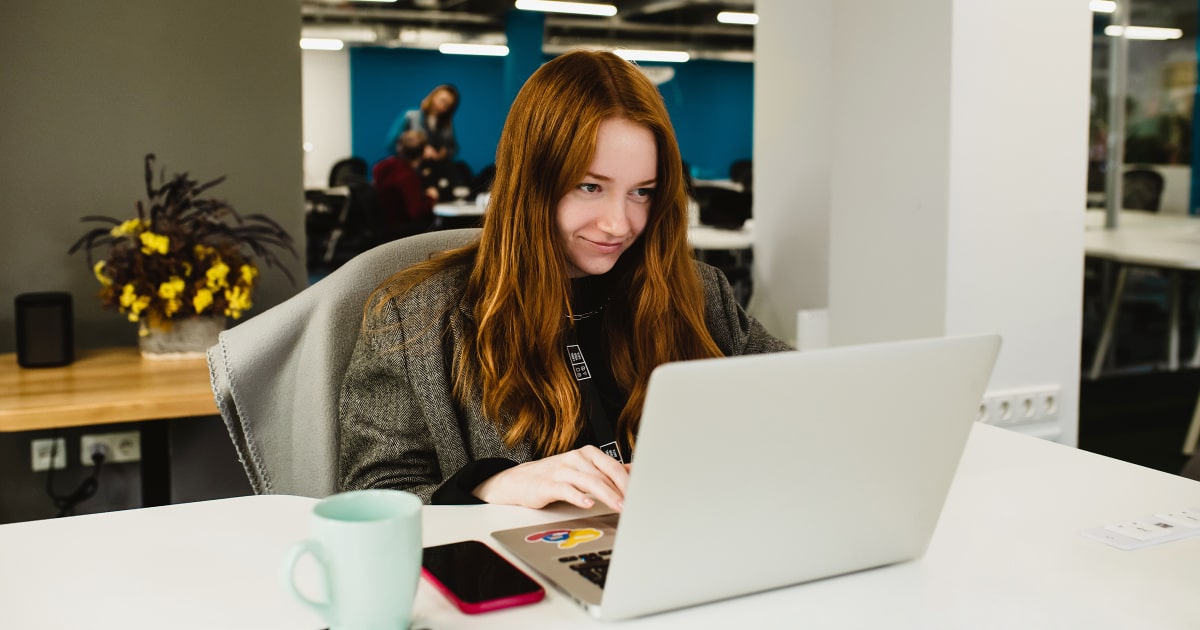 Now, let's have a little talk on the key data labeling cases with our clients that we've been working on throughout 2022. However, this is not an exhaustive list of our projects and only a brief overview of the top cases, since we strictly follow the GDPR compliance and NDA agreements with our clients. Data security and privacy are above all at Label Your Data.
Audio Data Collection
The client asked us to collect audio of people speaking Arabic. The project required us to gather audio data from 2000 different people from various Arabic-speaking countries. Our data specialists were collecting the audio snippets for almost two months.
Semantic Segmentation
This was the project our team performed for a university in Saudi Arabia. Our annotators carried out semantic segmentation on the 3000 photos with buildings for architectural research in computer vision. An arduous work was made by Label Your Data, since the visual data included complex architectural patterns of windows, wrought iron frames, and balconies. Such data required pixel-perfect data labeling, which took us a month of work.
CV Annotation
According to the latest data annotation trends and market predictions for the future, computer vision is the most demanding area of AI research. The Label Your Data team has a knack for working with CV annotations. One such client asked us to label data for solar panel detection in Australia. The project included approximately 5000 photos containing different types of solar panels, solar water heaters, etc.
Data Collection
Label Your Data is not only about data annotation. Our team of tech pros is also an expert in data collection, data anonymization, and KYC (know your customer). In 2022, we worked on the data collection of handwritten forms in both German and French. The client asked us to gather 10 different forms (in different handwriting) from 50 people in German language and 50 people in French.
NLP Annotation and Document Classification
Another area of expertise at Label Your Data is document classification. This is an ongoing project for our team. The client asked us to perform NLP (Natural Language Processing) annotation and regulatory document classification. So far, we have annotated 50 000 different documents from different publishers. We have a specialized team on board with a background in annotating legal documents in English. The task set for our team was to annotate the title and the given content of nearly 50 types of regulation documents. And there's still a lot of work to be done.
Focus for 2023: Staying Ahead of the Game in AI
In this section, we are back to our little secret this year — the platform for data annotation.
As we are approaching the end of the year, our team is at the final stage of developing our first platform for data labeling. This was, perhaps, the most critical objective for Label Your Data in 2022. But why did we decide to launch our platform?
Those who are looking for a job online and eager to learn more about the fascinating science of data annotation will be able to use the platform. All they would have to do is to log in to the platform, grab the task, start working, and earn money immediately and easily from home. We hope to release it at the beginning of next year. So far, we already had a few successfully completed projects with our internal annotation team.
But that's not all! Next year will be devoted to developing the clients' self-service platform. The main idea about this solution is that the client will be able to log in, submit the instructions, calculate the price for the project, upload the data, and receive the annotations within a few days. The Label Your Data team expects it to be useful specifically for POC and R&D projects, since they require annotations of small datasets quickly, accurately, and cost-efficiently.
Therefore, the focus for 2023 for our team is to offer beta testing to our existing clients and release the self-service platform for the clients by the end of 2023, so that anyone can use it. We also plan to expand our operations globally to ensure smooth services despite the current situation in Ukraine.
Final Words: Staying on Top Despite the Hardships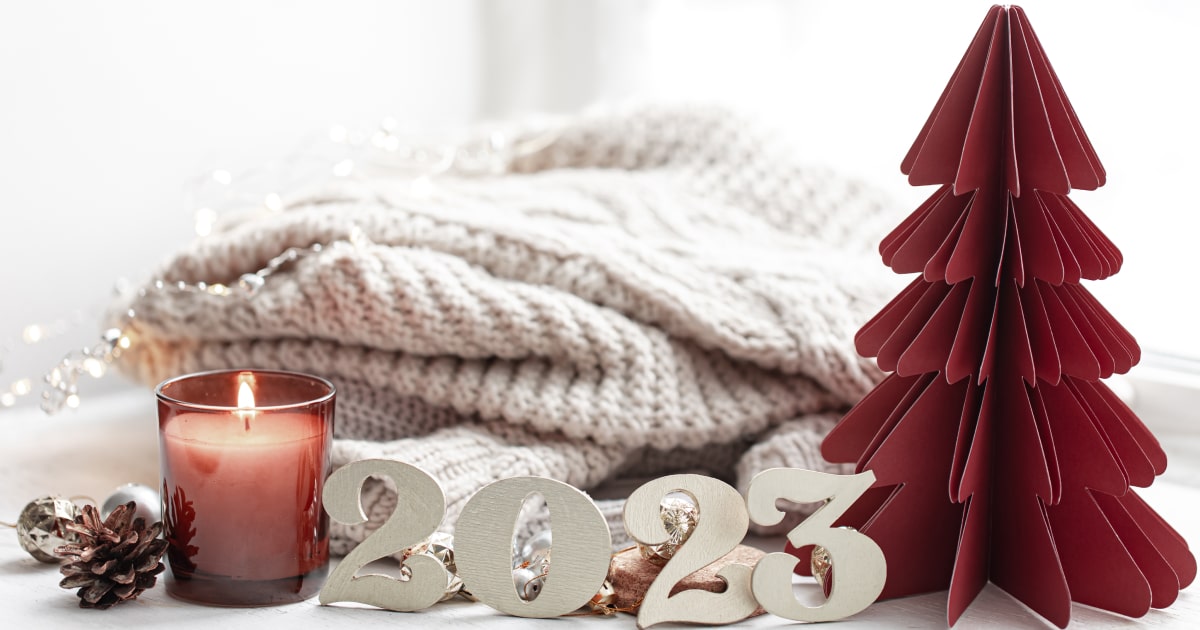 The team's results are usually intriguing to summarize. It is doubly satisfying when the team manages to produce excellent outcomes after a year of pretty erratic effort, given all the external obstacles.
However, our deepest gratitude goes to each and every one of you — our readers, our clients, and our rivals. You are the ones who make our data pros stronger and more resilient to all the hardships along the way. Because in such a hectic, data-driven world, if you snooze, you lose.
With that said, farewell to 2022 and welcome 2023! We have high hopes for you!
If you are working on your AI project and in need of a trusted data labeling partner, contact our team! We always strive for a personalized approach to those looking for a secure and high-quality data annotation service.
Get Notified ⤵
Receive weekly email each time we publish something new:
✔︎ Congrats! You are on the list.

Get Instant Data Annotation Quote
What type of data do you need to annotate?
Get My Quote ▶︎