Table of Contents
AI, ML, and DL: A Classic Triad Is Setting the Tone for Data Annotation in 2022

The Main Data Annotation Market Trends in 2022 
Is the Future of AI in the Hands of Intelligent Data Annotation?
Despite the hype around artificial intelligence, it isn't that intelligent per se. It takes large volumes of data and algorithms that run on this data to develop smart AI systems. More specifically, a great deal of annotated data is required for AI-based algorithms to recognize patterns and make accurate predictions. Only then can one start building effective ML models for a wide gamut of areas, from healthcare to the automotive industry. 
The accelerated use of AI has shaped a whole new reality we live in today and the digital landscape for modern enterprises. And as we learned to collect and process data at unprecedented levels, the role of data annotation was frequently left out of the picture. It's time to put things right.
Last year, the entire data-driven world faced a dilemma: companies were tested for their courage to go online while at the same time learning to deal with a vast amount of data. We've recently discussed how data annotators contributed to the global fight against COVID-19 and touched on the data annotation trends for the future. 
Today, we'll delve more deeply into this topic and find out what to expect from data annotation specialists and the AI community this year. The data labeling market forecast for the next decade will be covered and thoroughly assessed as well, so stay tuned!
AI, ML, and DL: A Classic Triad Is Setting the Tone for Data Annotation in 2022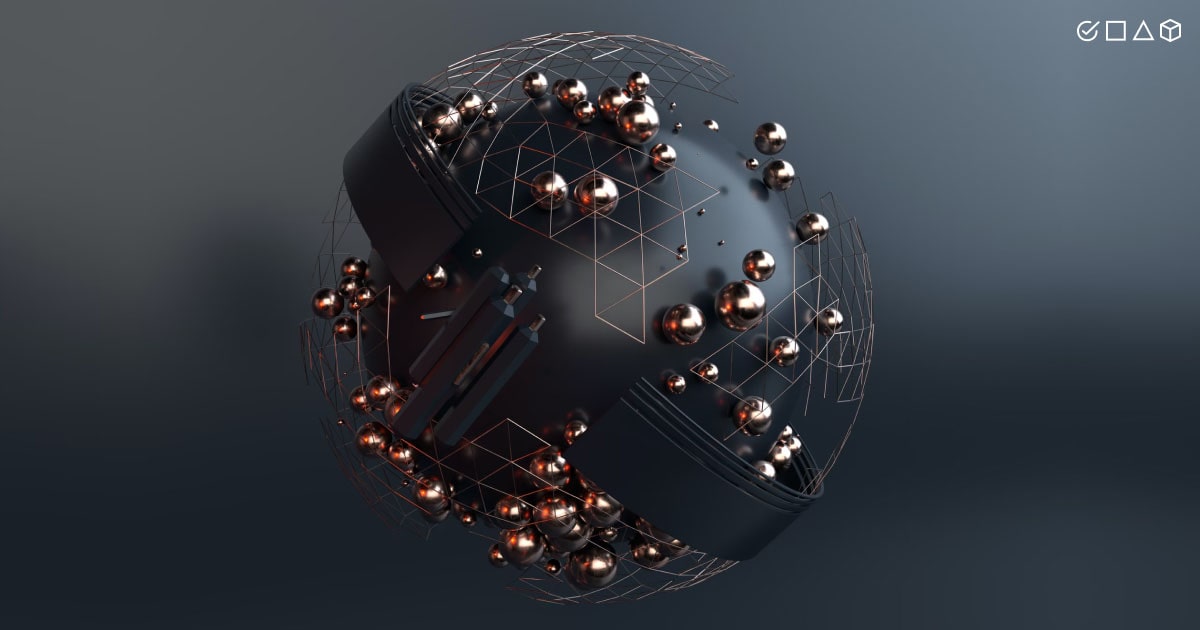 According to Grand View Research, the global data annotation market is projected to be worth USD 8.22 billion by 2028. However, we can see the industry thriving already today.
As AI is scaling up, it enables more advanced and sophisticated solutions for machine learning and deep learning. Thus, AI contributes to the rapid progress of the data labeling segment. This way, data annotation, AI, ML, and DL are inextricably linked. 
Today, however, the most common sectors relying on data collection and annotation services find it difficult to maneuver with fast-growing data. They need to collect datasets from an immense number of sources and annotate them according to the type of data, context, and the project's goals. As a result, we see the data annotation industry facing major growth opportunities and fresh tendencies shaping its current outlook in the global AI ecosystem. 
What Makes 2022 the Year of Data Annotation? 
Even though it's only the beginning of the year, it has already been given the title "the year of data." Let's see why data takes such a laudable role in 2022! 
First, AI-based applications and technologies are going into production this year. Here, data quality becomes crucial for the long-term success of ML models in production. It starts with expert data annotation so that the algorithms may be constantly and properly trained.
The second reason is that data expertise has reached a tipping point in effective AI deployment. Edge cases, like those in medical AI, are stressing the need for impeccable labeling skills and subject-matter specialists in the loop (e.g., healthcare providers). 
An end-to-end labeling technology is considered the third factor driving the growth of data-driven applications in 2022. Such platform connects leading companies with competent data annotators for various projects, making it easier to manage data operations for ML models. 
We at Label Your Data have already started developing our own data labeling platform, a marketplace that will put together the top-tier annotators to assist our clients in carrying out AI projects. Contact us to find out more!
What Factors Influence Data Annotation Trends Today?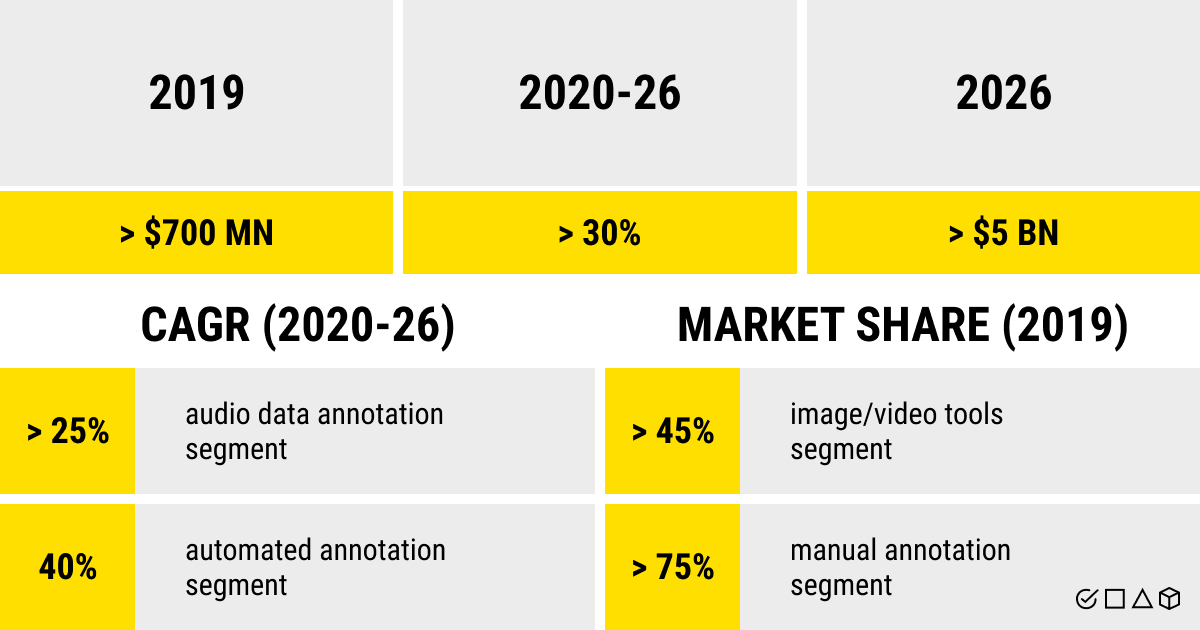 In 2022, data annotation takes a big step forward and becomes even more integrated into the modern digital landscape. The most important factor behind such modifications is the rise of digital image processing and mobile computing platforms. 
What's the purpose of data annotation in these areas, and where does it come into play? 
Digital commerce: improving customer experience. 
Banking, finance, and insurance: document verification, customer interaction in real-time.
Research: parsing scores of accumulated and unstructured datasets.
Social media: content monitoring and curation, inappropriate content identification.
Agricultural sector: crop monitoring, soil assessment, etc.
However, this is not an exhaustive list of factors shaping the current trends in data annotation. Another fact to consider is the phenomenal growth of digital content across all business platforms. It, therefore, implies dealing with mass user data, including images, videos, and text, via a plethora of digital channels. Here, data annotation helps businesses fully exploit the benefits of online content, add value, and attain new customers. 
Moreover, companies are enforcing a data-centric architecture this year. Both a mindset and a technical architecture, data centricity puts data as the most valuable resource to deploy and maintain an effective enterprise architecture. This necessitates a more intelligent data labeling workforce and a shift towards automated options to reduce the high cost and time of manual annotation.
The surge of image annotation tools in the retail, automotive industry, and healthcare is one more factor contributing to the data labeling market growth in 2022. Such a soaring demand for annotation tools is due to the need to reinforce the value of data applied in these industries using labeling technologies.
Last but not least, innovations in the IoT, ML, DL, robotics, predictive analytics, fraud detection systems, and recommender systems require highly effective data for AI projects to be feasible and effective. This is arguably the most important factor leading to breakthroughs in data labeling this year. Now it's time to talk about the latest trends in this industry!
The Main Data Annotation Market Trends in 2022 
The dramatic growth and increasing demand for data labeling up to 2030 is primarily due to the growth of ML tools and algorithms in commercial applications and research. Besides, it'll soon become imperative to use data annotation for national security and surveillance purposes. 
Starting from this year, the major achievements in this domain will eliminate the longstanding hurdles and help annotators conquer new horizons of image recognition, Natural Language Processing (NLP), cognitive search, and other advanced solutions in AI. Also, novel approaches to annotation will deal with unstructured data (used for NLP, text mining), a key element underpinning analytics in 2022. That said, the industry will move toward less training data and more automated solutions.
What's more, the emerging trends in data annotation will bridge the gap between the two most fundamental methods of ML, supervised and unsupervised learning. Given that AI is essentially a hybrid of these two methods, the transition to unsupervised ML will establish an advanced data science paradigm for the decade to come. 
Artificial intelligence may now be said to be one step closer to human intelligence by relying less on humans and more on itself.
— Automated vs. Manual Annotation
The manual data annotation remains the most popular approach in the field, holding the greatest share of over 76% of the total market revenue. Yet, automatic options are not far behind: automated annotation is predicted to grow at 18% CAGR through 2030. Also, the demand for automatic annotation tools grows significantly due to developments in research, IoT, and ML products. Auto labeling is definitely the next big thing in AI.
— Data Annotation Tools
The use of data annotation tools keeps rapidly expanding due to the developments in the IT segment (i.e., big data developments and the increasing number of large datasets). From 2021 to 2028, the global data annotation tools market is estimated to increase at a CAGR of 27.1 %. In 2022, image annotation tools experience exponential growth in the automotive industry, retail, and healthcare.   
— Image and Video Annotation
Image and video annotation continue to rise this year. With a CAGR of nearly 17% between 2020 and 2030, images and videos are the fastest-growing types of data. Both types of annotation are applied across multiple industries (e.g., manufacturing, energy and utilities, and automotive) to follow the major surge of the computer vision (CV) market that is estimated to reach a value of $48.6 billion. The major applications of image annotation are in healthcare, particularly in the realm of medical imaging. 
— Text and Audio Annotation
While the development of audio labeling (for advanced speech recognition applications) is moderate this year, the text annotation growth has already begun thanks to the developments in e-commerce and innovations in medical research. Text annotation is dominating the global labeling market in 2022 to fine-tune AI's capacity to recognize patterns in text, voice, and semantic connection of annotated data. Plus, the development of text mining applications depends largely on pre-annotated text.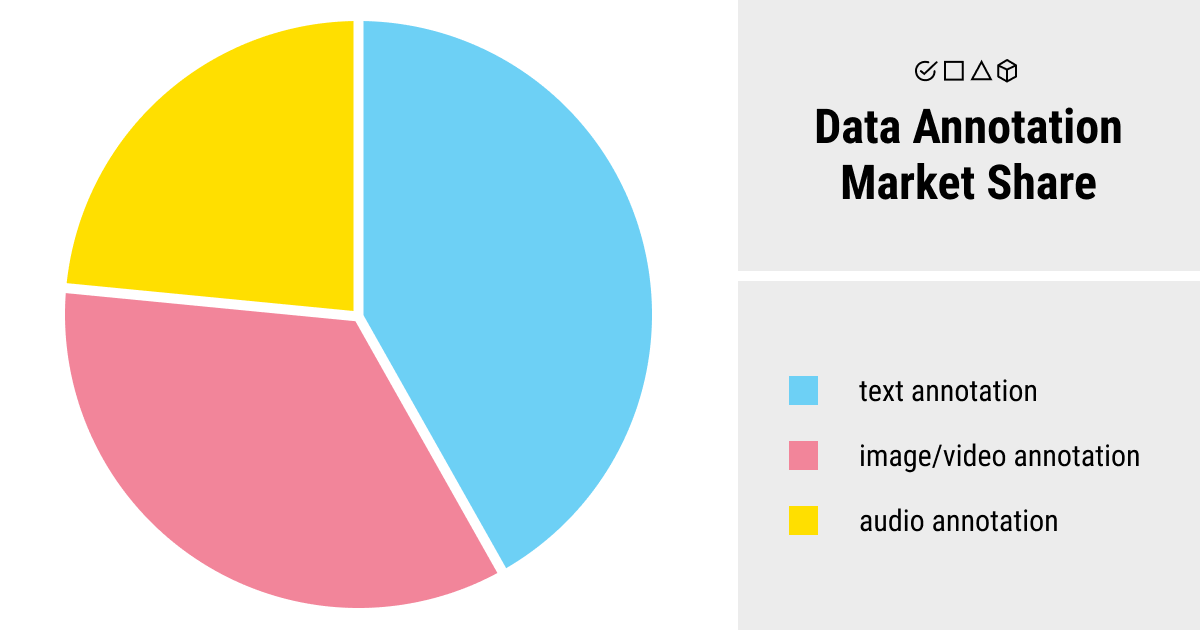 Current and Future Strategies to Expediting Data Annotation
With such high expectations for data labeling this year, we can see the global AI industry undergoing significant changes, too. And since the expanding reach of data annotation services entails an increase in intelligent algorithms, we can expect the decline in manual annotation techniques. 
Either way, automated or manual, data annotation plays a pivotal role in improving the quality, accuracy, security, and usability of data in various contexts and across many industries. But with changes comes the need to deploy new strategies to strengthen the domain and ensure that the current trends are well-integrated into the global data labeling ecosystem.  
In addition to traditional (aka manual) data annotation strategies, this year the industry is following the new scenario:
Unsupervised Learning. According to Gartner, supervised learning will continue to be the most popular type of ML in 2022. Unsupervised learning, on the other hand, will attain the same level of popularity, opening doors for clustering (unsupervised ML method). Given the sheer magnitude of data, clustering algorithms are indispensable for reducing the manual input and providing faster results. 
Contrastive and Manifold Learning. The ML techniques to learn with unlabeled datasets. These approaches don't require labeled data, since their models perform encodings and embeddings. For example, Google has applied contrastive learning to the Wikipedia platform.
Neuro-Symbolic AI. A new area of AI research rests on conventional approaches and modern DL techniques. This reduces the need for labeling data and increases dependence on statistical and knowledge frameworks. Such a strategy saves time and resources of hiring subject-matter specialists for data annotation. 
As a rule of thumb, ML heavily relies on supervised learning because it requires labeled training data to build effective predictive models. However, the above-mentioned strategies and the tendencies they will cultivate this year imply the use of unsupervised learning and unlabeled training data. Why do we mention unsupervised ML if it doesn't involve annotation? 
Unsupervised learning can greatly supplement supervised ML and, therefore, boost the entire ML system performance. And now for the trends that will necessitate the use of labeled data:
Medical AI. Data annotation, as it has always been, will keep revolutionizing the healthcare with advancements in CV and medical imaging technologies. Data labeling tools will continue to lead the sector by enhancing AI-powered medical applications and reducing human input. It will also augment the medical research capabilities across the industry. 
Cloud. The soaring demand for the cloud-based services will shape the data collection and annotation market in 2022, including digital marketing channels and e-commerce. They require labeled data for extracting valuable information and gaining insights into their activity online. The rise of cloud-hosted AI platforms will enhance annotation for facial recognition, landmark detection, object recognition, etc.
Social Media. Data annotation will be a viable strategy for measuring emotional contagion on social media, like Twitter or Facebook, and managing data proliferation and micro-communications. Visual listening and analytics will also require intelligent and secure data labeling strategies for social media monitoring. 
Active Learning. The novel approach to train ML models, as well as build and annotate training datasets simultaneously to ensure the most accurate results using minimum labels. Active learning calls for a smart data annotation approach that will combine both labeled and unlabeled data.
AutoML. A trending topic that will contribute to the development of advanced data labeling tools for the automatic optimization of neural network architectures. Automating the annotation process will significantly reduce the risk of human error in building ML models. 
Synthesis AI. The virtual phenomenon of Metaverse is expected to spread through most major businesses in 2022. It requires a great deal of synthetic data to build such virtual spaces. Simply put, it's a 3D data that is impossible to be labeled manually by humans with high precision. However, the main advantage here is that synthetic data is automatically generated and annotated.
Whether AI- or human-led data annotation, the ultimate results matter the most — data quality, security, and scalability. The dynamic transformation of the labeling industry towards automation will redefine the digital landscape and businesses in ways not previously imagined. Cognitive automation, fueled by expert data annotation, is the way of the future for businesses. This makes data annotation a hot-button issue in 2022 in the context of the global economy of AI. 
Label Your Data Is Charting the Future
In addition to building an advanced data annotation platform, Label Your Data has set a few more goals and objectives for 2022.
More and more customers are becoming increasingly concerned about the security of their data. Data security and privacy protection have always been of the highest priority at Label Your Data, and we'll keep the same focus this year. Our goal is to ensure that our clients' sensitive data (such as medical or personal data) is transmitted and processed in the most secure way possible. On top of that, we must not lose sight of data quality — the heart and soul of expert annotation at Label Your Data. 
In 2022, our team isn't far behind the main data annotation trend, which is the shift towards automated labeling. However, we are planning to implement the semi-automatic process to keep up with the trend and accelerate the annotation process overall. Moreover, our mission is to co-build an AI-driven economy and help developers devise effective AI mechanisms because this is the economy of the future. 
With that said, Label Your Data aims to become the most trusted data annotation partner in the market. If you're interested in embarking on this journey with our team, you can contact us to request a quote!
Is the Future of AI in the Hands of Intelligent Data Annotation?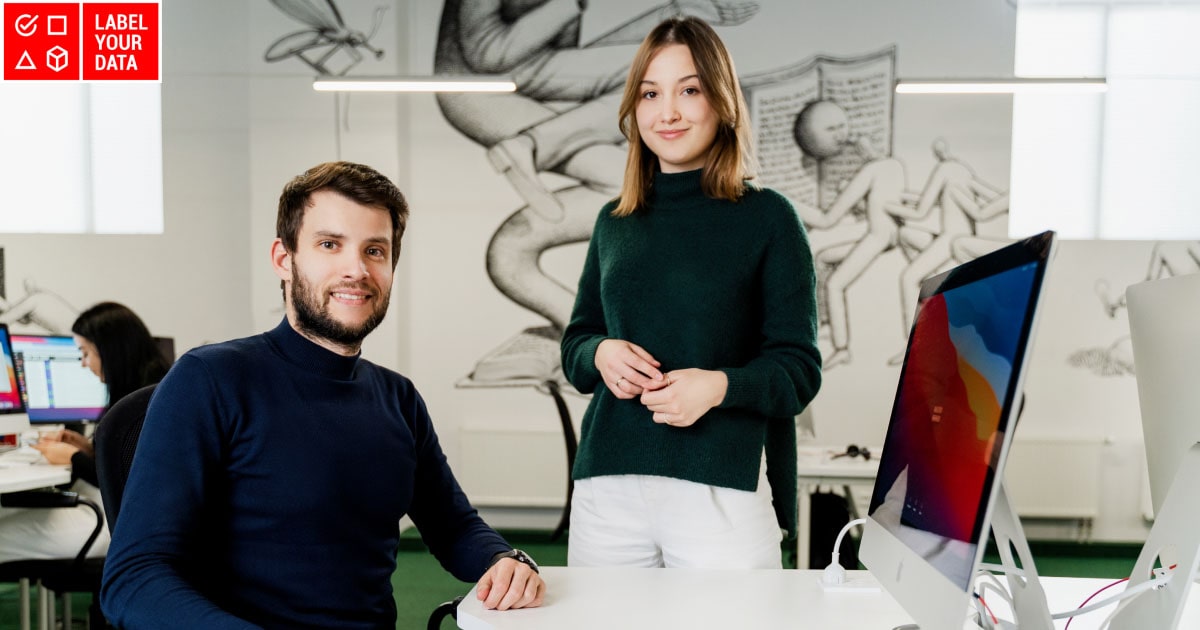 On a final note, data annotation for machine learning has quickly evolved into an entirely new industry. This also has made companies specializing in data labeling services, like Label Your Data, the hottest projects and the main targets for businesses following the current AI boom.
The data annotation market will expand tremendously starting this year, providing additional opportunities for AI, ML, and DL to permeate the entire business sector and our personal lives. We can now safely say that the highly specialized and meticulous process of expert data annotation is what holds the key to the future of AI.
If you are contemplating the creation of your unique AI project, you need to enlist the support of professional data annotators. Time is a valuable commodity, so you better not waste it and contact Label Your Data team for a quote!
Get Notified ⤵
Receive weekly email each time we publish something new:
✔︎ Congrats! You are on the list.

Get Instant Data Annotation Quote
I need to annotate:
Get My Quote ▶︎