Table of Contents
Top 7 Trends for Data Annotation Market in 2023: Industry Dynamics & Future Outlook
Starting 2023 Off Right with the Hottest Tech Trends of the Future
Data has become the foundation of many business endeavors. It fuels corporate growth and progress, and plays an indispensable role in decision-making. Data applies to everything from business transactions to consumer purchases to watching Netflix movies.
Moreover, companies can optimize their workflows and develop better strategies for the future with this single most important asset — data. However, in an effort to harness the power of AI-enabled automation, they struggle to process large volumes of raw and unstructured data. For AI to recognize patterns or make accurate predictions, annotated data is a must to start building effective ML models for a wide gamut of areas, from healthcare to the automotive industry.
By leveraging data insights and testing out the trending data annotation solutions, businesses can gain a real advantage over their competitors and achieve long-term success. In this piece, we'll discuss the latest trends of data annotation in 2023, the pressing labeling requirements of modern business, and the competitive edge offered by automation. We will also explore the changing patterns in the industry and the future market needs.
The Status Quo of Data Annotation Market in 2023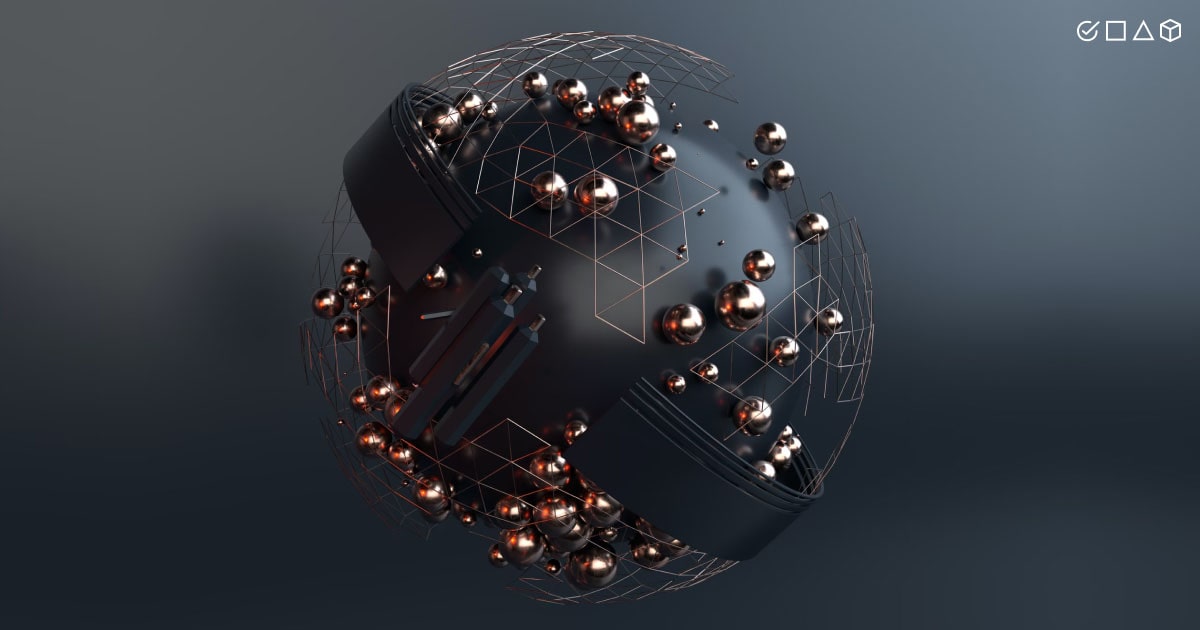 The importance of labeled data is only increasing as we enter the new year. There are numerous fascinating things to look forward to in 2023 (and beyond) as data annotation for machine learning has fast developed into a brand-new industry.
According to the research, the global data annotation market is projected to be worth USD 8.22 billion by 2028. Besides, through 2030, it's expected that the global data annotation services market will grow at a CAGR of 26.6%. By the end of 2022, the market was worth US$ 1.3 billion, and by 2030, it is projected to be worth US$ 5.3 billion. However, we can see the industry thriving already today.
Such impressive stats are mainly caused by the rapid growth of data, which has spawned the need for businesses to learn how to deal with large training datasets. Consequently, one of the most influential trends, big data, has emerged. Big data has a direct impact on the development of the data annotation industry, along with recent advances in machine learning and other digital solutions created to handle mass data.
The top 3 factors driving market demand for data annotation tools are:
Efficient automated data labeling tools and the rising adoption of cloud-based computing resources for annotating large datasets.
The soaring demand for data annotation tools by businesses to accurately label large volumes of training data for AI projects.
The increased investments in the development of autonomous driving technology and, thus, the rising need for well-annotated data to improve driverless ML models.
In 2023, data annotation takes a big step forward and becomes even more integrated into the modern digital landscape. The most important factor behind such modifications is the rise of digital image processing and mobile computing platforms.
What's the purpose of data annotation in these areas, and where does it come into play?
Digital commerce: improving customer experience.
Banking, finance, and insurance: document verification, customer interaction in real-time.
Research: parsing scores of accumulated and unstructured datasets.
Social media: content monitoring and curation, inappropriate content identification.
Agricultural sector: crop monitoring, soil assessment, etc.
However, this is not an exhaustive list of factors shaping the current data annotation industry trends. Another fact to consider is the phenomenal growth of digital content across all business platforms. This implies dealing with mass user data via a plethora of digital channels. Here, data annotation helps businesses fully exploit the benefits of online content, add value, and attain new customers.
In addition, companies are enforcing a data-centric architecture this year. Both a mindset and a technical architecture, data centricity puts data as the most valuable resource to deploy and maintain an effective enterprise architecture. This necessitates a more intelligent data labeling workforce and a shift towards automated options.
Last but not least, innovations in the IoT, ML, DL, robotics, predictive analytics, fraud detection systems, and recommender systems require highly effective data for AI projects to be feasible and effective. This is arguably the most important factor leading to breakthroughs in data labeling this year.
What Makes 2023 the Year of Data Annotation?
Even though it's only the beginning of the year, it has already been given the title "the year of data." Let's see why data takes such a laudable role in 2023!
First, AI-based applications and technologies are going into production this year. Data quality, thus, becomes crucial for the long-term success of ML models in production. It starts with expert data annotation so that the algorithms may be constantly and properly trained.
The second reason is that data expertise has reached a tipping point in effective AI deployment. Edge cases, like those in medical AI, are stressing the need for impeccable labeling skills and subject-matter specialists in the loop (e.g., healthcare providers).
An end-to-end labeling technology is considered the third factor driving the growth of data-driven applications in 2023. Such a platform connects leading companies with competent data annotators for various projects, making it easier to manage data operations for ML models.
Top 7 Trends for Data Annotation Market in 2023: Industry Dynamics & Future Outlook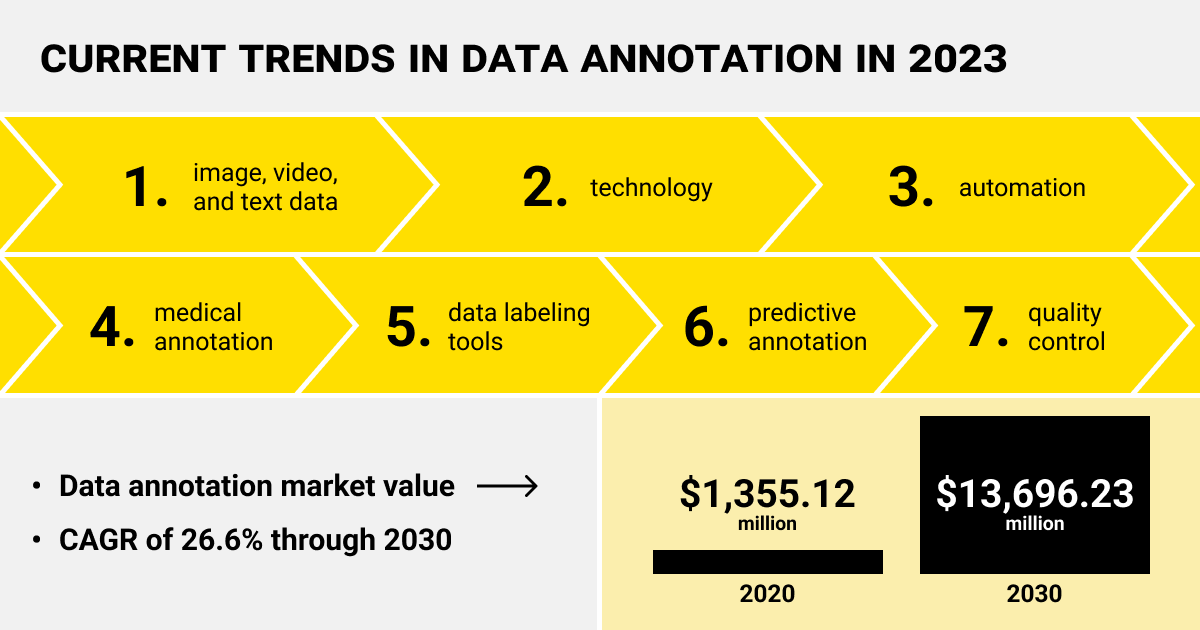 The increasing demand for data labeling up to 2030 is primarily due to the growth of ML tools and algorithms in commercial applications and research. Besides, data annotation is soon to become imperative for national security and surveillance purposes.
Starting from this year, the major achievements in this domain will eliminate the longstanding hurdles and help annotators conquer new horizons of image recognition, Natural Language Processing (NLP), cognitive search, and other advanced solutions in AI. The novel approaches to annotation will deal with unstructured data (used for NLP, text mining), a key element underpinning analytics in 2023. That said, the industry will move toward less training data and more automated solutions.
What's more, the latest trends of data annotation will bridge the gap between the two most fundamental methods of ML, supervised and unsupervised learning. Given that AI is essentially a hybrid of these two methods, the transition to unsupervised ML will establish an advanced data science paradigm for the decade to come.
Artificial intelligence may now be said to be one step closer to human intelligence by relying less on humans and more on itself, thanks to the current trends in the data labeling industry:
#1: Image, video, and text data are leading the way
With a CAGR of nearly 17% between 2020 and 2030, both image and video annotation will dominate the data labeling industry. The expansion of the data annotation market in 2023 will be primarily driven by the image segment as a result of the increased use of computer vision that is estimated to reach a value of $48.6 billion. The sectors concerned are automotive, healthcare, manufacturing, energy and utilities, and media and entertainment.
Another data type that is expected to grow over the forecast period is text data. This is due to the advancement of text annotation in e-commerce, social media monitoring, and clinical research. Annotation of text data helps fine-tune the AI's capacity to recognize patterns in text, voice, and semantic connection of labeled data. Plus, the development of text mining applications depends largely on pre-annotated text.
The market share of the audio labeling (for advanced speech recognition applications) will be moderate this year.
#2: Technology impacts the data labeling market growth
Large data volumes are being produced by technologies like artificial intelligence, machine learning, the Internet of Things (IoT), and robots on a daily basis. Hence, data efficiency will become increasingly important in light of emerging trends for data annotation market in 2023 and the need for developing new systems of production, economy, and infrastructure. As such, the growth of the data annotation market will be considerably aided by these reasons.
#3: The level of automation increases
The manual data annotation remains the most popular approach in the field, holding the greatest share of over 76% of the total market revenue. However, the cost of the entire procedure is much higher since manually labeled data may occasionally contain inaccuracies, and the time required to identify them may vary.
For this reason, automated annotation is predicted to grow at 18% CAGR through 2030. The demand for automatic annotation tools will grow significantly due to developments in research, IoT, and ML products, as well as better accuracy rates. Since the technology enables the extraction of intricate and high-level abstractions from datasets through a hierarchical learning process, AI is becoming pivotal to the data annotation sector.
However, this might become a restraint for the data annotation market growth because of the regular clashes between the two camps. Check this blog post to learn what the Label Your Data team thinks on the topic.
#4: Healthcare becomes more dependent on data annotation
A fundamental part in enhancing AI applications in the healthcare industry is anticipated to be played by data annotation. AI-powered systems employ computer vision in medical imaging data technologies to detect patterns and pinpoint potential injuries. As a result, this assists doctors in automatically creating reports once the patient has been assessed.
#5: Data labeling tools market is skyrocketing
The use of data annotation tools keeps rapidly expanding due to the developments in the IT segment (i.e., big data developments and the increasing number of large datasets). From 2021 to 2028, the global data annotation tools market is estimated to increase at a CAGR of 27.1 %. As has already been mentioned above, in 2023, image annotation tools experience exponential growth in the automotive industry, retail, and healthcare.
#6: Predictive annotation takes over the data-oriented industry
The next big thing in the data labeling sector this year is predictive annotation. The tools used for this new trend in data annotation can automatically find and label items based on similar manual annotation. After the first few frames are manually tagged in computer vision procedures, predictive annotation tools may be used to annotate subsequent frames. Given this emerging trend, human ingenuity, which is still required for the QA process and edge cases, is the new key differentiator when selecting a data annotation service provider.
#7: More focus on quality control procedures
In 2023, make sure your team pays due attention to quality assurance (QA). Data teams made up of professionals with a full understanding of data and its subject matter will be required to deal with large datasets. And so the main focus should be on edge cases and quality control of the labeling process. This way, data annotators will be able to work independently and with a laser focus on finding and fixing bugs in huge datasets.
Major Technological Trends to Watch in the Next Decade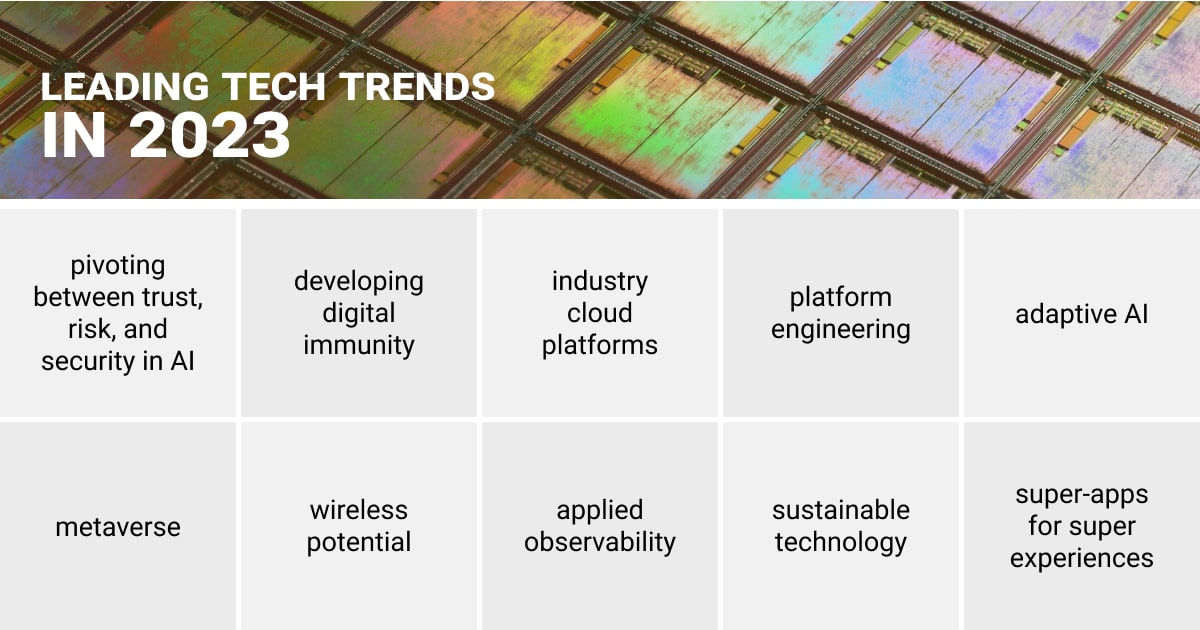 Regardless of your AI mission, both data and technology are crucial. However, you must be aware of the potential effects of rising tech developments and be cognizant of their timing. Then, consider which technologies and trends will be most beneficial, while keeping in mind that not every one of them needs to be embraced immediately.
In 2023, we will see the data annotation industry facing major growth opportunities and fresh technological trends (based on Gartner's research) shaping its current outlook in the global AI ecosystem:
Pivoting between Trust, Risk, and Security in AI

The new trends call for advanced capabilities of management teams to guarantee model dependability, credibility, security, and privacy. This also promotes better user acceptability and corporate goals reached, as these factors will increase by 50% by 2026.

Developing Digital Immunity

A strategy that equips your business to reduce risks, improve user and customer experiences, and make them more robust to setbacks. By 2025, investing in a digital immune system will lead to improvement in consumer satisfaction by cutting downtime by 80%.

Industry Cloud Platforms

Organizations would be able to tackle the most pressing issues and cases in their own industries with the help of industry clouds. More than half of modern organizations will adopt sector-specific cloud platforms by 2027 to speed up their business activities.

Platform Engineering

Pioneering companies have started to create operating platforms that are between users and the supporting services they depend on. It's estimated that by 2026, 80% of software engineering firms will create platform teams to supply reusable services, components, and tools for application delivery internally.

Adaptive AI

By operationalizing AI, businesses may gain the capacity to quickly build, deploy, adapt, and manage AI across many organizational contexts. By implementing AI engineering methods for developing adaptive systems, they will be able to perform at least 25% better than their competitors.

Metaverse

Firms are learning ways to increase employee engagement, cooperation, and connection through the use of metaverse experiences. Almost half of the major corporations are expected to deploy Web3, spatial computing, and digital twins by 2027 in revenue-boosting initiatives.

Wireless Potential

A more affordable, dependable, and scalable technical basis that requires less capital outlay will be created by integrating several wireless technologies. In the next three years, networking services that provide functions other than communication will be used by 50% of business wireless endpoints, up from 15% now.
Each of these recent industry trends presents companies with both an opportunity and a risk. Thus, to observe a real impact on reaching various strategic goals with your particular AI initiative, be careful while building a technology roadmap and don't forget about the importance of a well-annotated dataset for the project.
The Main Catalysts to Expedite Data Annotation in 2023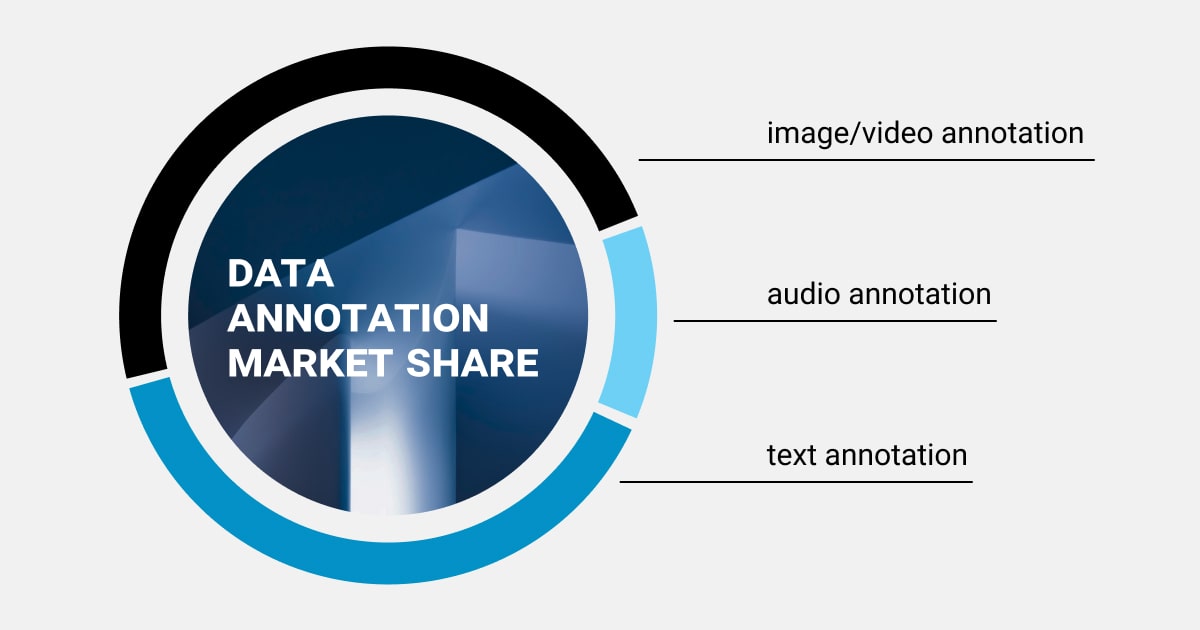 With such high expectations for data labeling this year, we can see the global AI industry undergoing significant changes, too. Data annotation plays a pivotal role in improving the quality, accuracy, security, and usability of data in various contexts and across many industries.
But with changes comes the need to deploy new strategies to strengthen the domain and ensure that the current trends for data annotation markets are well-integrated into the global data ecosystem.
What are the industries and technologies necessitating the increased use of labeled data this year?
Medical AI. Data annotation will keep revolutionizing healthcare with advancements in CV and medical imaging technologies. Data labeling tools will continue to lead the sector by enhancing AI-powered medical applications and reducing human input. It will also augment the medical research capabilities.
Cloud. The soaring demand for the cloud-based services will shape the data collection and annotation market in 2023, including digital marketing channels and e-commerce. They require labeled data for extracting valuable information and gaining insights into their activity online. The rise of cloud-hosted AI platforms will enhance annotation for facial recognition, landmark detection, object recognition, etc.
Social Media. Data annotation will be a viable strategy for measuring emotional contagion on social media, like Twitter or Facebook, and managing data proliferation and micro-communications. Visual listening and analytics will also require intelligent and secure data labeling strategies for social media monitoring.
Active Learning. The novel approach to train ML models, as well as build and annotate training datasets simultaneously to ensure the most accurate results using minimum labels. Active learning calls for a smart data annotation approach that will combine both labeled and unlabeled data.
AutoML. A trending topic that will contribute to the development of advanced data labeling tools for the automatic optimization of neural network architectures. Automating the annotation process will significantly reduce the risk of human error in building ML models.
Synthesis AI. The virtual phenomenon of Metaverse is expected to spread through most major businesses in 2023. It requires a great deal of synthetic data to build such virtual spaces. Simply put, it's a 3D data that is impossible to be labeled manually by humans with high precision. However, the main advantage here is that synthetic data is automatically generated and annotated.
Whether AI- or human-led data annotation, the ultimate results matter the most — data quality, security, and scalability. The dynamic transformation of the labeling industry towards automation will redefine the digital landscape and businesses in ways not previously imagined.
Cognitive automation, fueled by expert data annotation, is the way of the future for businesses. This makes data annotation a hot-button issue in 2023 in the context of the global economy of AI.
Starting 2023 Off Right with the Hottest Tech Trends of the Future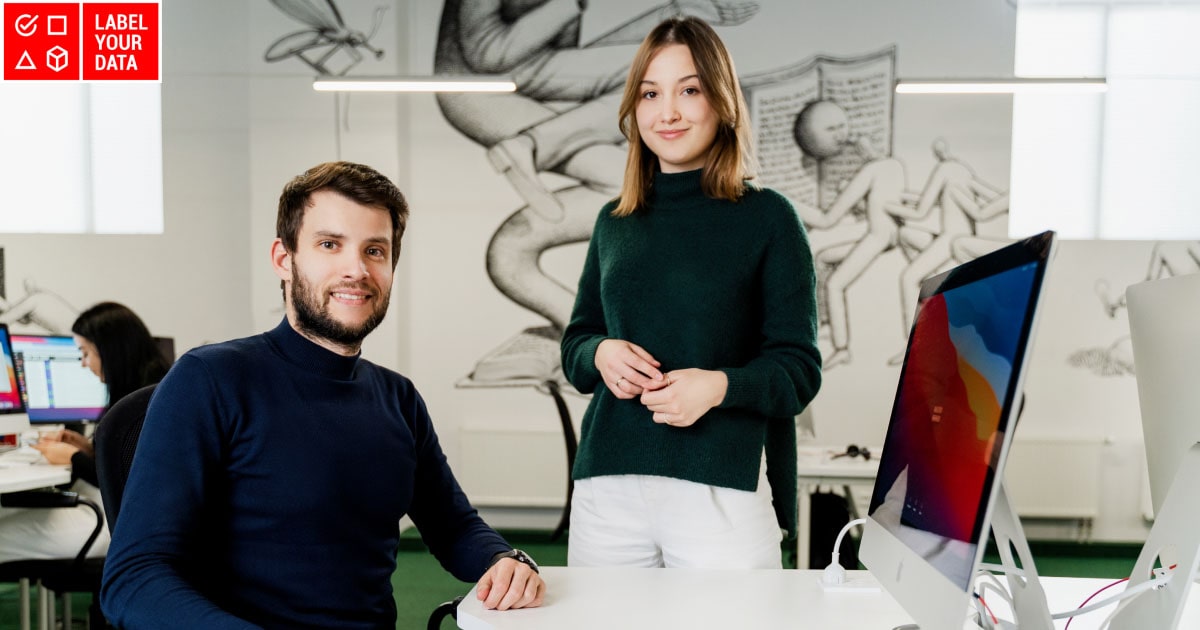 As data annotation shoots up, companies specializing in data labeling services become the hottest projects and the main targets for businesses following the current AI boom. And the key to success is to keep up with current data annotation and labeling trends to find what works best for your business.
The data annotation market will expand tremendously starting this year, providing additional opportunities for AI to permeate the entire business sector and our personal lives. We've outlined the key trends in data annotation to keep an eye on in 2023 and the next ten years. Now you can better see what business goals these trends will help to solve during this period.
Eager to conquer uncharted AI horizons? Contact the Label Your Data team to make this journey a wonderful experience of yours!
Get Notified ⤵
Receive weekly email each time we publish something new:
✔︎ Congrats! You are on the list.

Get Instant Data Annotation Quote
What type of data do you need to annotate?
Get My Quote ▶︎